Shopping in Buxton includes a great selection of independent shops and boutiques, so think twice before you plan to head out of town. Here's our pick of 24 independent shops in Buxton we love, you might be pleasantly surprised what you might find:
1. Charlotte's Chocolates and Café
Handmade chocolates in store, Charlotte's offers a wide range to choose from in various sizes of gift box where you choose your own chocolates plus there's ready wrapped boxes and other various chocolates and sweet treats and they make an ideal gift or if you just want to gorge on some chocolates! They sell ice cream too and there's the cafe which makes a lovely spot on a sunny day people watching.
Where: Charlottes Chocolates, Unit 1 Cavendish Arcade, Buxton, SK17 6BQ
T: 01298 214440
facebook.com/Charlottes-Chocolates-Chocolatier-Cafe
2. Sew Loved
Sew Loved restyles and up-cycles antique and vintage furniture and has a lovely selection of unusual accessories for the home. If you own something you love – a tired old chair or a dated chest of drawers, owner Keri takes commissions (on request) offering a full upholstery service and individual bespoke designs for every piece. Skilfully restored, you can breath new life into your treasured pieces, or, trawl the shop for something that might take your fancy. There's a wide range of exclusive Sew Loved handmade cushions and a lovely range of lamps and handmade lampshades. If you really don't know where to start with a room or a new house, Keri offers a full interior design service too. And if you're after something in particular, a vintage piece – Keri can try her best to source it for you.
Where: 44 High Street, Buxton, SK17 6HN
T: 07514 128666
facebook.com/sewlovedupholstery
Beer District sell a huge range of over 400 craft ales as well as artisan, small batch whiskeys, gins and vodkas. Forest Gin, for example, is an award winning spirit, distilled in small batches at the their distillery next to Macclesfield Forest and Elements of Islay is a range of single malt whiskies made as single casks or as individual batches from the island of Islay in Scotland – just a few of the specialities you'll find in store. The gift boxes holding 6 bottles of ale are ideal for Dad or brother as a pressie, or, if you're not sure what to get, they sell gift vouchers.
Where: Beer District, 4a The Colonade, Buxton, SK17 6AL
T: 01298 27920
4. Scriveners Books
One of Derbyshire's largest second hand bookshops with over 40,000 volumes across 5 floors, Scriveners is a Buxton institution and an Aladdin's cave where you can lose a couple of hours amongst the huge selection of books, old and new. From pulp to antiquarian, with hundreds of children's books and collectables, they also offer a book binding service and restoration work  – completed in-house. They also offer free advice / valuations on books. Self service tea & coffee is available as well as a small Victorian museum located in the cellar.
42 High St, Buxton, SK17 6HB
T: 01298 73100
5. Day Zero
High Peak's first zero waste and plastic free shop, there's a huge selection of everyday foods such as cereals, pasta, rice, dried fruit, nuts, herbs and spices, infused oils, chocolate coated nuts and raisins, baking ingredients and more. All you need to do is bring your own containers or you can buy them in-store; the system is really easy and owners Mark and Holly will guide you through anything you need. You'll also find a great range of cosmetics, books and homeware items. If you're fan of Buxton Roastery Coffee, you can buy it here and there's a good a selection of loose teas.
30 High Street, Buxton, SK17 6EU
6. Grove Goodies and Geekery
Comics, table top gaming events and generally geeky stuff. It's nice to see something like this in Buxton for a change. The range of action figures are pretty good and the games like Monopoly Game of Thrones and Pokémon merchandise are fun…
The Grove Goodies and Geekery, 2 Eagle Parade, Buxton
T: 07889 283614
7. JantarAn emporium of jewellery of every kind, Jantar are specialists in Baltic Amber and other gemstones, silver and Derbyshire Blue John, alongside a plethora of worldwide designers. When you enter the shop, it's hard to know where to turn, there's no denying it, the selection on offer is stunning. If you love silver jewellery, this is the place to go. From necklaces, earrings, rings, pendants and more, a must visit if you're looking for a special gift too.
Unit 3, Cavendish Arcade, Buxton, SK17 6BQ
T: 01298 73116
8. Atticus Boo
A small space but a huge emporium of lovely quality gifts featuring some favourite brands such as Jellycat, Moleskin and Orla Kiely to name just a few. Posh note books, beautiful teddies and toys, cosmetic cases, jewellery…and so much more. You're hard pressed not to buy something when visiting here. Oh and there's a great range of greeting cards if you're after something a little special and a little different than the high street chain offerings. Superb choice for pressies of all ages inc. some great blokey gifts too.
6 Cavendish Arcade,The Crescent, Buxton, SK17 6BQ
T: 01298 73237
9. Divine Trash
Offering a range of exclusive branded clothing for a modern day fashion conscious crowd, selling brands such as Religion, French Connection, Vera Moda, Postcard, Pieces and more. A good range of men's and women's clothing as well as accessories such as belts, jewellery, shoes and bags. Who needs Manchester when you can get your hands on these brands right here in Buxton?!
Cavendish Arcade, The Crescent, Buxton SK17 6BQ
T: 0845 805 4706
10. Wild Olive
Wild Olive produce their own range of bath melts, soaps, cosmetics and candles right here in the Peak District at their factory in Chapel-en-le-Frith. Their flagship store in Buxton has a huge range of gifts (and a small range for boys) and there's lots of lovely accessories for the home as well things to truly pamper yourself with. There's usually a baby range in store too and often a range a wedding range with tags, paper and giftware. There's also wrapping paper, a good selection of greeting cards and tags. The large range of candles and bath bombs Wild Olive made its name on smell divine when you walk in and they also have a large range of room diffusers which smell amazing.
12 Cavendish Arcade, The Crescent, Buxton, SK17 6BQ
T: 01298 72404
11. Clowes Chemist
C.R Clowes is no ordinary chemist. Established in 1875 as a druggist & pharmacy, the building is listed with English Heritage, both outside and the interior and the building was originally designed by Robert Rippon Duke – famed for helping transform Buxton and creating some of its finest buildings. The interior original cabinets are quite something but more to the point so is the gift selection, with some high quality cosmetic brands including Crabtree and Evelyn, Yardley London, Bronnley, Vichy, Mason Pearson (maker of the finest hair brushes dating back to the 1860's). There are gifts both for men and women and also a lovely selection of cosmetic mirrors as well as make up and accessories. Clowes is the only place in Buxton to sell Chanel perfume too, including favourites 'Chance' and 'Co Coco Mademoiselle'.
4 Cavendish Circus, Buxton, SK17 6AX
T: 01298 23218
12. The Closet
Awesome vintage clothing and funky accessories to complete your look. From shell suits, tie-dye, 80s bling or a colourful dress for summer, you'll find it all here! This shop has quickly become an institution with local shoppers who are after something to make them stand out from the crowd.
19 High Street, Buxton, SK17 6ET
T: 07494 261122
13. Queenie of Shabbie Chic Gifts
Hand made vintage cake stands, tea light jars, candles in vintage cups, revamped chairs, shabby chic decoupage, occasional tables soft furnishings and more..a plethora of shabby chic and also official stockists to Frenchic Furniture Paint. Prices are really reasonable too – well worth a visit.
49 High Street, Buxton, SK17 6HB
T:  07907 374192
14. Peak Ascent Cycles
Super friendly and professional bike shop offering a wide range of bikes to suit a range of budgets selling popular brands such as Forme – featuring bikes tested on the High Peak Trail, Lapierre and Raleigh. There is also a wide range of great electric bikes. You can also get your bike serviced – full service packages starting from £35+ VAT which include bolt torque check, Brake pad check, Drivetrain wear check, Tyre check, Rim check, Wheels trued, Gear indexing, Brake adjustment and Headset check.
Peak Ascent Cycles, 6 The Colonnade, Buxton, SK17 6AL
T: 01298 299011 / 07434 937 728
15. Everything's Rosy Interiors
Everything's Rosy is a treasure trove of pretty things for the home with a wide range of soft furnishings, furniture and home accessories. There's a definite rustic country feel to much of the range in store with stylish cushions, picture frames, clocks and loads more. There's also lots of little trinkets such as pretty fragrant hearts to hang, tea light holders and some gorgeous golf leaf plates we spotted. Perfect if you need a gift for someone with a new home.
8 Hardwick Street, Buxton, SK17 6DH
T: 01298 78778
16. La Maison
Old and new Shabby chic, original vintage crockery, furniture, homewares, gifts and absolutely loads more – there's various  rooms full of beautiful things here and stock changes all the time too. It's hard to know where to look where you come into the store and La Maison seem to source some real gems when it comes to vintage pieces. Great if you're after a gift to give or just something all for moi. You can try to haggle on prices too which is fun.
2 Longden Court, (Off Spring Gardens, just past Costa) Buxton, SK17 6BZ
T: 07515 809262
facebook.com/lamaisononline.co.uk
17. Hargreaves & Sons
Hargreaves has been established in Buxton since 1865 and offer an absolute emporium of gifts and cookware. The cookware range is huge so if you're after a gift for a domestic goddess, then start here. From utensils and jars to a wide range tools for the kitchen as well as a large selection of crockery, you'll also find a great range of gifts too – modern designed cushions, coasters and surprisingly – you might find Star Wars merchandise too. Perfect hunting ground for Christmas gifts, from granny and your mum to your boyfriend.
16-18 Spring Gardens, Buxton, SK17 6DE
T: 01298 23083
18. Famous Names Furniture
This Family run, independent business, offer good quality furniture and accessories for the home from some of the biggest high stores and major manufacturers – all at heavily reduced prices. May items are customer returns or cancelled orders. The stock in the two showrooms is ever changing with many items one offs. You'll find upholstery, cabinet and dining furniture, as well as stylish mirrors, lighting and other accessories. Items can sometimes be ordered in.
7 – 9 London Road, Buxton, SK17 
T: 01298 72999
19. One Small Step
Superb independent children's shoe shop offering a range of some of the cooler brands and funky designs you are your children will love. The service is second to none with a full fitting and measurement service to ensure your get the right shoes and best size. Some styles can be ordered.
9 Hall Bank, Buxton, SK17 6EW
T: 01298 71537
20. Tech Corner 
It's great to see this independent, family run tech shop, thriving in Buxton. They offer a price match against any high street retailer on like for like goods too (excluding online prices). They sell all the favourite brands and gadgets, both new and second hand –  such as Samsung tablets and iPhones, iPads, Samsung Galaxy mobile phones, games and game consoles as well as a great range of accessories too. Who needs eBay or a trek out of town when you can buy technology gifts right here in Buxton?
The Springs Shopping Centre, Buxton, SK17 6DE
T: 01298 26629
21. Unique Feet
A superb indie shoe shop selling some of our favourite designer brands inc. Ugg, Fly and more.
Unit 4, Cavendish Arcade, The Crescent, Buxton, SK17 6BQ
T: 01298 73299
22. Isla Fine Art, Gifts & Cards
Isla, which opened in 2017, now occupies two units in the upmarket Cavendish Shopping Arcade, has a lovely selection of unusual gifts and homewares (some of which are made locally) and also a wide range of greeting cards featuring designs you won't really see in the chain store greeting cards shops. The shop also specialises in selling original art works – again many of which feature local artists. The shop is a lovely array of pretty things and ideal if you're looking for a gift with a difference or something unusual for the wall at home.
4b The Colonnade, Buxton, SK17 6AL
T: 01298 938492
23. Decor Boutique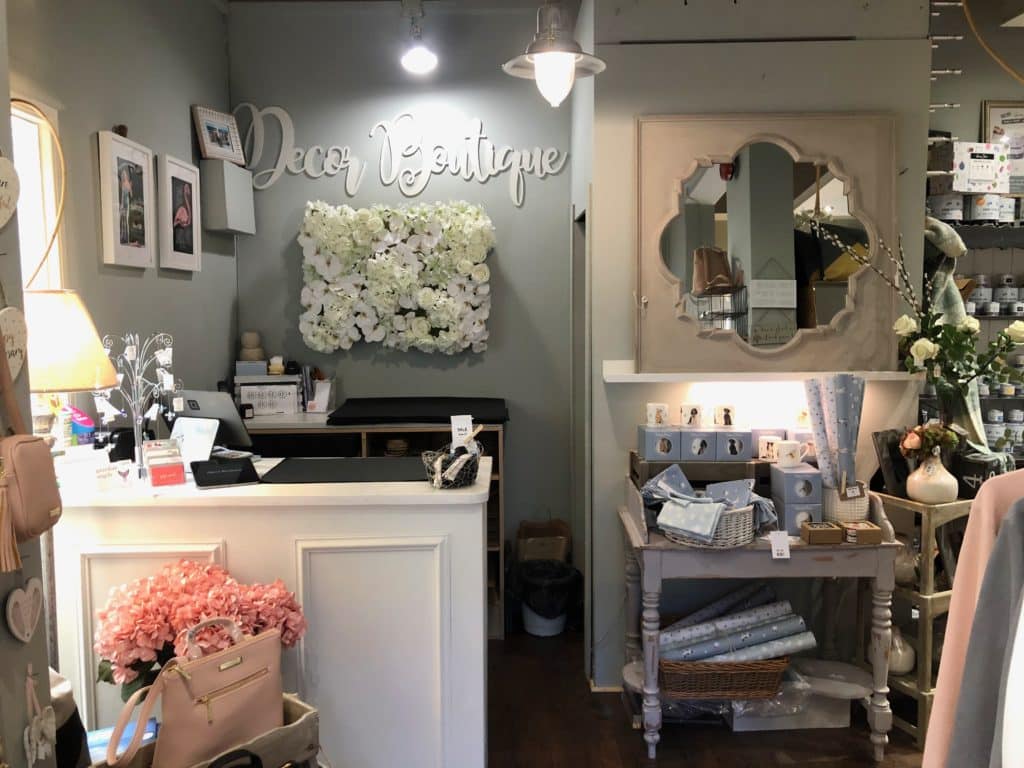 A gorgeous shop selling stylish furniture which regularly features unique pieces painted by the team with Chalk Paint. There's also lots of pretty accessories for the home as well as a lovely selection of gifts. Official stockists of Chalk Paint™ Decorative Paint by Annie Sloan. Also stockists of Joma Jewellery and Katie Loxton.  They also hold workshops on chalk painting if you're not sure where to start with your furniture project. Definitely worth a visit.
Unit 9, Cavendish Arcade, Buxton, SK17 6BQ
T: +441298938006
24. Buxton Pudding Emporium
A lovely little treasure trove of gorgeous foodie treats, with many items from around the Peak District and Derbyshire as well as quality producers from around the UK. Not forgetting of course producers of the famous Buxton Pudding! There's also some great homewares too.
4 The Square, Buxton, SK17 6AZ
T: 01298 214154