Check out our ultimate guide to the top 23 things to do in Buxton. Whether you're a local and wondering how to spend the evening, visiting for the day or here for a few days break, you can find theatre, comedy, films, kids activities, outdoors stuff, walks and hikes, attractions to miss and a few lesser known gems you really should know about. Enjoy 🙂
Contemporary fine art and creative hub, with a varied programme of exhibitions, workshops, art events and live music. Original paintings, ceramics, textiles and other locally made unique gifts are for sale in the gift shop. Located next door to Buxton Museum, you could visit both on the same day if you fancy a day of culture. Home to The Buxton Spa Prize annual art competition. There exhibition programme and latest events for 2019 can be found on their website.
Where: Hardwick Hall, Hardwick Square South, Buxton SK17 6PY
T: 01298 937375
Entry / Cost: FREE entry to the main gallery (some special exhibitions, live music events, workshops and other special events will have admission free / ticket booking price)
Opening times: Monday – Saturday, 10.30am – 4.30pm, Sunday 11.30am – 4.30pm, Thursdays CLOSED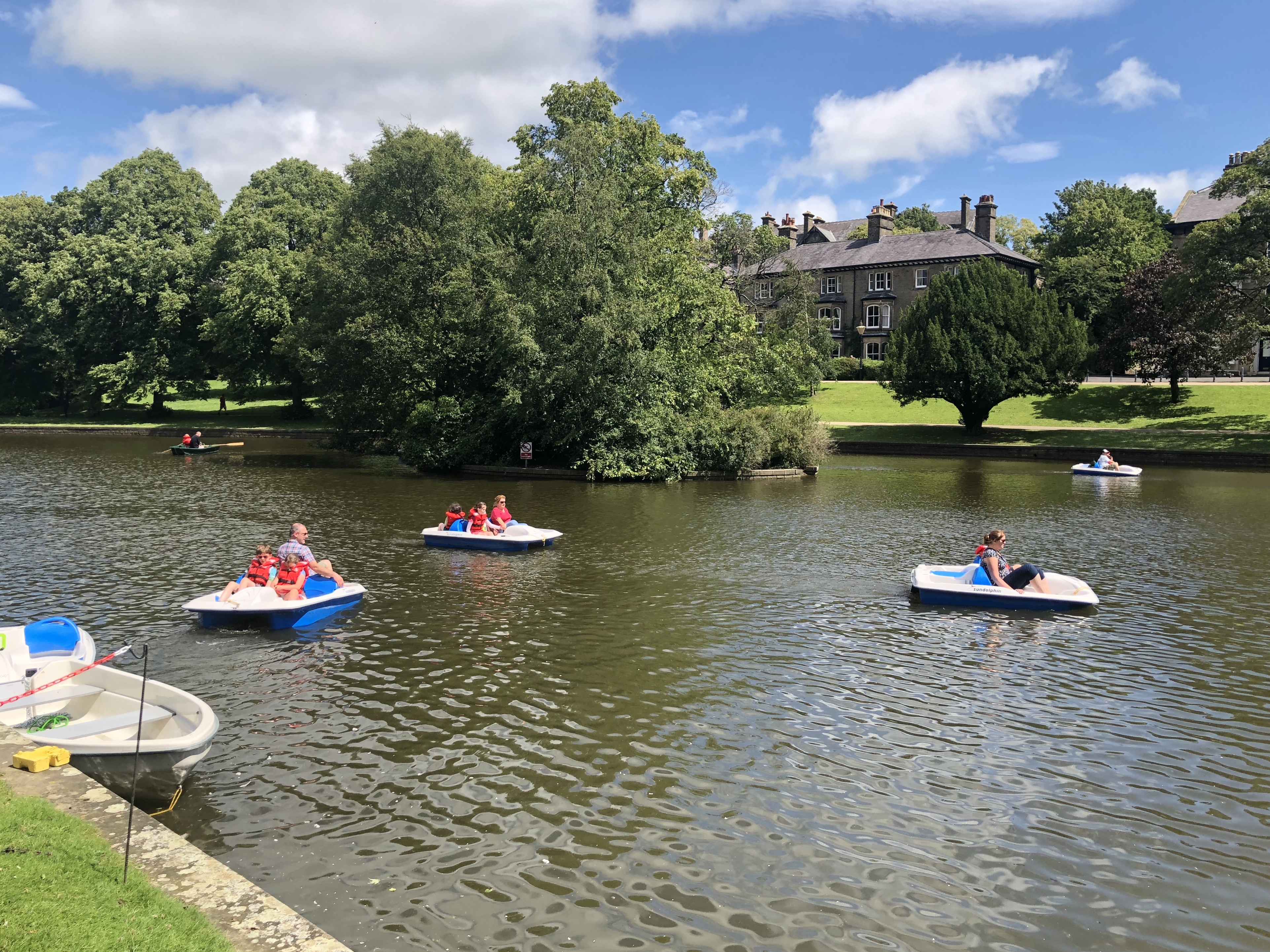 New for 2019, the boating lake in Pavilion Gardens has re-opened again after more 25 years. Take to the water and enjoy pretty vistas across to Broadwalk and look out for the striking Mandarin ducks, Moore Hens and Canada geese that reside here. It's a lovely leisurely activity for a sunny day with family or friends.  Cost is £10 for 30 minutes or £14 for 45 minutes per boat. The boats will be open for the duration of the summer holidays. Boats take up to 4 people and will be available 10.30am Monday – Saturday with last admission at 4pm, and from 12.30pm on Sundays, with last admission at 4pm.
Entry / Cost: £10 for 30 minutes or £14 for 45 minutes per boat.
parkwoodoutdoors.co.uk/centre/the-pavilion-gardens
Frank Matcham designed this 902 seat theatre dating back to 1903, displaying both a spectacular exterior and interior.
The year-round programme offers drama, comedy, music, family events and opera and the theatre is home to the well known annual Buxton International Festival, as well as many other regular festivals. The programme is diverse with something on offer for all ages and there's regular workshops for children too.
Where: Water St, Buxton, SK17 6XN
Entry / Cost: Check online for show ticket prices
Bookings: Bookings in advance are highly recommended
4. Treetop adventures at Go Ape Buxton
Go Ape Buxton is in walking distance from our historic spa town and you'll also find the two-million-year-old natural limestone cave Poole's Cavern, in Buxton Country Park. If you're looking to give your pupils a school trip to remember, or you fancy giving your little monkeys a birthday party they won't forget or you like the idea of swinging through the trees on your next hen or stag do –this thrilling outdoor activity is lots of fun and the woodlands are really pretty too.
Where: Go Ape Buxton, Buxton Country Park, Poole's Cavern, Green Lane, Buxton SK17 9DH
T: 01603 895500
Entry / Cost: Various packages available – call or check their website
Opening times: Open all year round except December – please choose your booking slot on their website
Bookings: Places can be booked via time slots online
goape.co.uk/days-out/midlands/buxton
Newly opened in Autumn 2020, this brand new attraction has nine rooms to explore inside the iconic Grade 1 Crescent building. Telling the story of both the history of the Crescent and the how this building was very much a centrepiece of Georgian and Victorian Buxton, the 'tour' is an interactive experience as you move from one room to another, culminating in a virtual reality balloon ride from Winnats Pass to Buxton. Tickets can be booked in advance online or are available to purchase from Buxton Visitor Centre (The Pump Room).
Where: Buxton Visitor Centre, The Pump Room, The Crescent, Buxton, SK17 6BQ
T: 01298 214577
Entry / Cost: Various tickets types, please check their website
Opening times: Tuesday – Sunday 11am – 4pm
Redeveloped in 2017 with a £1.5m Heritage Lottery Fund grant, the Wonders of the Peak exhibition has been completely transformed. The museum now has 10% more objects on display and much more for children to explore and engage with – such as the Bear Trail, because yes, the bear is still here, who, over the years has become an unofficial mascot for the museum loved locals. The collection of archaeological artefacts, minerals and fossils from the Peak District as well as artwork, photographs and objects owned by people who lived in Buxton, make this a must visit. And, it's free entry too. You can really gain a sense of understanding about the social, geological and cultural history of the area. The gift shop has also had a complete makeover with a fantastic range of merchandise, gifts, postcards and souvenirs now on sale.
Where: Terrace Road, Buxton,  SK17 6DA
T: 01629 533540
Entry / Cost: FREE
Opening times: Tuesday to Saturday from 10am to 5pm, Sundays and bank holidays (Easter to September only) from midday to 4pm, last entry to upstairs gallery 4.30pm
derbyshire.gov.uk/leisure/buxton-museum/buxton-museum-and-art-gallery
Opened in December 2017, Buxton Cinema promises to be something quite different than your standard multiplex. Showing the latest blockbusters as well as all time favourite classics, Buxton Cinema really fills the cinematic void which has previously left Buxtonians forced to travel for up to an hour to get their film fix. Popcorn, snacks and drinks are on offer in the cafe. They also have regular accessible showings including autism friendly, audio description and subtitled films. The tickets are priced at £7 (Students/Children/Seniors £5) are a snip too.
Where: 22 St John's Rd, Buxton SK17 6XN
T: 01298 72190
Entry / Cost: General admission – £7 adults (Students/  Children / Seniors £5), ticket cost for some showings vary
Opening times: All year round
Bookings: Ticket bookings can be made in advance online or tickets can be purchased over the phone from the Box Office or in person when you arrive.
buxtonoperahouse.org.uk/cinema
Operated by and featuring art work by the High Peak Artists group, the Gallery in the Gardens' is a permanent exhibition in the Pavilion Gardens. What's great about the gallery is that all art work on display is for sale. The art work is varied and of an high standard, featuring ceramics, screen prints, lino prints, photography, paintings, jewellery and more. If you're looking for a unique gift this is ideal. The group also run pop up exhibitions in Art Cafe (upstairs in the cafe), during various times in the year, in particular during Buxton Festival Fringe and Christmas. Well worth a visit and you can team this up with a visit to explore the Pavilion Gardens too.
6 St John's Rd, Buxton, SK17 6XN
T: 07849 673058
Entry / Cost: Free
Pavilion Gardens opening times apply.
If haven't ridden the miniature train in the Pavilion Gardens yet – then you should! Ok, it's not exactly a thrilling adrenaline inducing rollercoaster of a ride but it is fun and the kids will love it. Don't forget to shout and wave as you go through the tunnel…
Where: St John's Rd, Buxton, SK17 6BE
T: 01298 24105
Entry / Cost: £2 adults, £1 child
Opening times: Throughout the year, weather permitting
Bookings: No advance booking required
paviliongardens.co.uk/article/2930/Miniature-Train
Where: Pavilion Arts Centre, 22 St John's Rd, Buxton SK17 6XN
T: 01298 72190
Entry / Cost: £9 in advance, £12 on the door
When: Various dates for 2019, go to explorebuxton.co.uk/buxton-buzz-comedy-club
Bookings: Advance booking recommended (advance bookings can be made over the phone and online)
Poole's Cavern makes for a great day out come rain or shine and there's a nice woodland nice walk on offer too if you fancy a ramble. In the cave, explore the vast limestone caverns and see how the spectacular crystal stalactites and stalagmites have lined the chambers over millions of years. With LED lighting, the caverns look spectacular along the effectively illuminated walk ways, so don't forget your camera.  A day out at Poole's Cavern can be enjoyed by everyone and the Cafe @ the Cavern serves a varied, tasty menu. Guided tours are every 15-20 minutes. The walk through Grin Low Country Park opposite the cavern entrance up to Solomon's Temple offers breathtaking views of Buxton.
Where: Green Lane, Buxton, SK17 9DH
T: 01298. 26978
Entry / Cost: Adults £10.50 (ages over 16 years), Child £5.50, Family £27 (2 Adults, up to 3 Children), Students/Seniors £8.00
Opening times: November to February open 10am – 4pm, March to October 9.30am – 5pm, Tours begin every 20 minutes in the cavern with the last tour starting at 4.30pm, The Cafe @ The Cavern serves food daily from 9.30 am to 4pm
Bookings: No advance booking required, however groups or school groups are advised to book in advance
The Ring of Trees trail takes you all the way around Buxton, through various pretty woodlands – but have you walked it all? The woodlands are lovely in summer with various flora and fauna to see. A cheap day out offering a good walk if you don't want to venture further into the Peak District. Go to Buxton Civic Association website where you can find a map of the trail to follow and lots of local information, points of interest to look out for along the way and wildlife you might see.
Where: Buxton
T: 01298 26978
Entry / Cost: FREE
Opening times: N/A
Bookings: N/A
buxtoncivicassociation.org.uk/woodlands
Previous winners of Day Spa of the Year as well as Rural Wellness Retreat of the Year by Luxury Travel Guide, it's easy to see why. Located inside the Devonshire Dome, this small spa beautifully kitted out has a sauna, steam rooms, hydro pool, foot spa and various treatments on offer with the therapists. The prices are superb and extremely reasonable for what is on offer too. The spa has a real sense of luxury inside and you can also book full day packages that include afternoon tea.
Where: Devonshire Dome, University of Derby Buxton Campus, Devonshire Rd, Buxton, SK17 6RY
T: 01298 338408
Entry / Cost: Check online for latest treatments available and prices here
Opening times:  Monday CLOSED, Tuesday and Wednesday 10am – 6pm, Thursday 9am – 7pm, Friday: 9am – 9pm, Saturday 9am – 7pm, Sunday: 10am – 4pm
Bookings: Booking in advance is highly recommended
devonshiredome.co.uk/devonshire-spa
Coal mining is not something commonly associated with Buxton but there are traces of a 300 year old cold industry if you know where to look and it's fascinating once you get started too. Buxton Civic Association produce a handy walking guide that makes it easier to find and you'll spot things in and amongst the landscape you might never have noticed before. This is one of many lovely walks in Buxton with great views of the town too. The walk self guided.
Where: Buxton
Entry / Cost: FREE
Bookings: N/A, this walk is self guided
explorebuxton.co.uk/walk-into-buxtons-coal-mining-past-yes-really
Dating back to 1871, nestled in 23 acres of gardens with water features, lakes and miniature railway, the gardens is ideal for a family stroll to feed the ducks. There are plenty of benches to take a rest and you could also enjoy lunch at the restaurant if you so wish. There's a soft play area which is great for children. The gardens are pretty are lovely in summer when brass bands play on the bandstand. There are regular fairs and event taking place in the The Octagon Hall. Check our website for the full listings.
Pavilion Gardens, St John's Road, Buxton, SK17 6BE
T: 01298 23114
parkwoodoutdoors.co.uk/centre/the-pavilion-gardens
The magnificent dome, home to the University of Derby, is well worth a visit and while you're here you can enjoy lunch or a Costa Coffee and stare at what was once Europe's largest unsupported dome. There is also a fine dining restaurant here too – which you need to book in advance. All food is cooked by the students and is extremely reasonable price wise.
Where: Devonshire Dome, University of Derby Buxton Campus, Devonshire Rd, Buxton, SK17 6RY
T: 01298 330620
Entry / Cost: FREE entry to the building, open to the public
Opening times: Check with the venue – Breakfast served from 8.30am and hot food served from 11.30am, times can vary dependent on term times
Bookings: Booking in advance is highly recommended for the fine dining restaurant, booking in advance for the café is not required
One of Derbyshire and Buxton's largest annual events in July which attracts crowds of thousands every year. Watching the carnival and enjoying the live entertainment is a Buxton institution but joining in the parade, well you can always do that too if you fancy it.
Where: Buxton
Entry / Cost: FREE
Opening times: Carnival Day 13th July 2019 (Buxton Well Dressing Festival runs from 7th July 2019 – 15th July 2019
Bookings: N/A
This open mic night at The Old Sun Inn is firmly established as part of Buxton's live music scene and all genres are welcome to join in. It makes for a good mid-week outing and you can enjoy a few cask ales while your at it to give you the courage to get in front of the microphone.
Where: 33 High St, Buxton, SK17 6HA
T: 01298 937986 (The Old Sun Inn)
Entry / Cost: FREE
When: Usually Every 2nd & 4th Wednesday of the month
See the richly decorated architecture of The Crescent and a dome bigger that St. Pauls Cathedral at the University of Derby. and discover more about Mary Queen of Scots and her visits to Buxton at the Old Hall Hotel. This superb tour of the town will take you to Buxton's most iconic locations and buildings aboard the 'Victoriam Tram' and is superb value for money.
Where: Buxton Opera House, Water St, Buxton SK17 6XN
T: 01298 79648 / 07530457755
Entry / Cost: £7.50 adult, £5 child
Opening times: March to October 2019
Bookings: Visitors can just turn up but during busier periods it is advisable to book in advance, particularly if you are in a group – book online or call
Take a look behind the scenes at one of the country's finest examples of a Frank Matcham theatre. In our their series of guided tours, discover the fascinating history of Buxton Opera House, from its Edwardian beginning right up to the present day. Starting from the Dress Circle bar, the tour will take you through to the auditorium and backstage where you will get a glimpse of the inner workings of the theatre.
Where: Water St, Buxton, SK17 6XN
T: 01298. 72190
Entry / Cost: Tickets £10 per person
Opening times: Full a full list of tour dates for 2019 click here, tour lasts 1 hr 15 mins
Bookings: Booking in advance is highly recommended, for group bookings (where available) please contact the Box Office on: 01298 72190 or email [email protected]
buxtonoperahouse.org.uk/event/back-stage-pass-2019
Both these walks offer cracking views across Buxton and across the Peak District, both at around 1300ft elevation.  The woodlands are both lovely and ideal spots for walking the dog or a picnic in summer in Buxton. Corbar Cross in Spring is famous for it's glorious carpet of bluebells. A walk to Solomon's Temple can always be mean a visit to Poole's Cavern as the walk starts at the entrance to the cave – and you can also enjoy a snack or lunch in the cavern cafe before or after a walk up here.
Where: Solomon's Temple & Grin Low Woods cab be accessed via Green Lane and Poole's Carvern, Corbar Woods can be accessed via Corbar Road.
A day out for all the family to enjoy – with the thrills and spills of stock car racing. There's burgers and a licensed car here to keep you going during too.
Where: Dale Head Road, Buxton SK17 0RR
T: 01663 732526
Entry / Cost: Various ticket prices, check their website
Opening times: Check their website for the latest 2019 fixtures
Geocaching is a world wide treasure hunt basically – you register online and you're away…but who's played in Buxton? There's quite a few to be found in and around the town, we've found 3. It's a great way of seeing different parts of the Buxton, if you want to explore the town a bit more.
Where:
---
Explore Buxton keeps you up to date with the latest events and things to do in Buxton and is updated every day. If you have a business or event you want listed, get in touch at [email protected]
Did You Enjoy This?
You might like our regular newsletter. We put all the best events, cultural highlights and offers from Buxton and the Peak District in your inbox every fortnight.
This information will only be used to send you this newsletter. It is stored in Mailchimp.