There's plenty of great walks in Buxton to be found, whether you're a keen hiker or just fancy a short stroll. From stunning views, pretty woodlands, secluded green spots with hidden history in the landscape and all within easy reach of the town centre.
Here's 11 of our favourite walks in Buxton that are definitely worth a look – with something to suit all fitness levels too. We've added in any links we thought might be useful, otherwise a map or your smart phone will probably be fine.
1. Corbar Cross 
Best for: An abundance of bluebells in the woodlands in May
Distance: Approx 1 mile from the Devonshire Dome
Walk from Buxton up Devonshire Road past the iconic Devonshire Dome. Turn right into Marlborough Road. This part of the walk takes you past some attractive Edwardian houses. Walk to the top and reach Corbar Road. Turn to the right and cross over (not far) and you'll see the entrance to the woodlands (which is also signposted and you'll see a large building to the left which is part of the University of Derby. You basically need to ascend through the woods and there are various pathways to take you to the top – all of which are very pretty. There's also little story boards along the way – installed by Buxton Civic Association, explaining what flora and fauna you might see and why it's there. Once you've reached the edge of the woods at the top you'll see Corbar Cross. The views are fantastic and it doesn't generally get that busy (less busy than Solomon's Temple) so a nice spot grab some quiet time and take in the fresh air.
explorebuxton.co.uk/a-walk-round-corbar-in-buxton
2. Solomon's Temple
Best for: Varied wildlife – there's usually friendly horses near the temple and you might spot the odd rabbit and even a badger if its later in the day or dark. Also, look out for an abundance Peacock butterflies just as you exit the woods on the way up to to the summit. Check our guide on wildlife you can find in Buxton Country Park and Grin Low.
Distance: Approx 1.6 km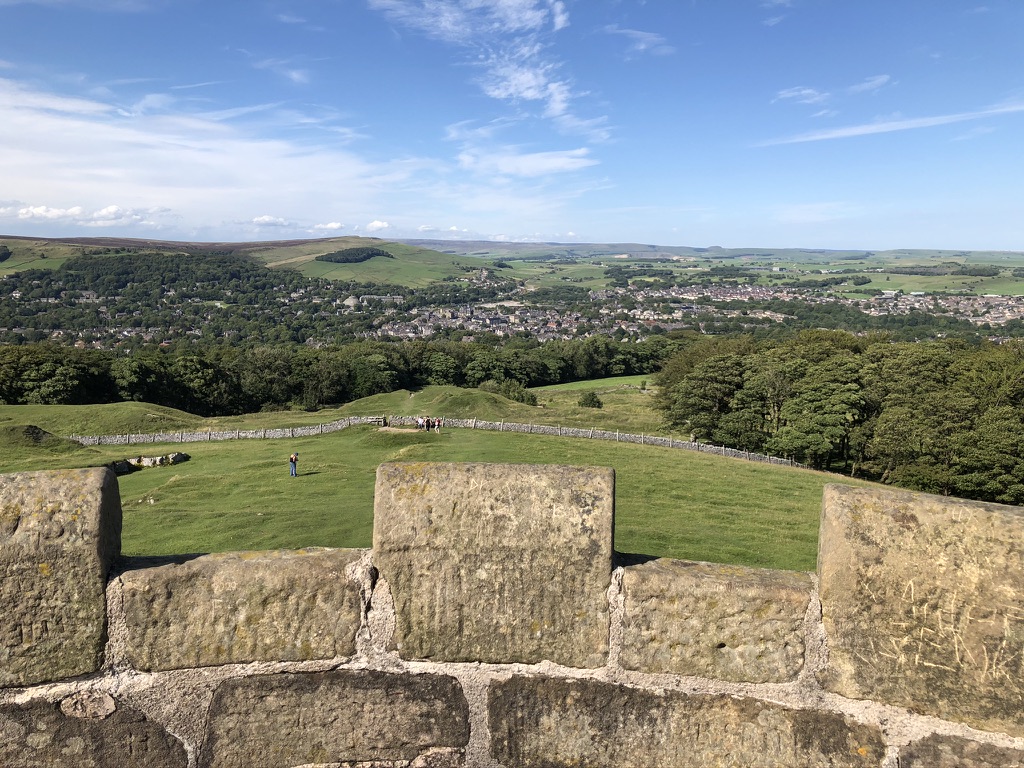 A short but steep and very popular walk which can be reached from the town centre. Walk from Buxton Market Place along High Street and turn into Green Lane. Follow Green Lane until you arrive at Poole's Cavern & Buxton Country Park. The walk begins here in the car park. You'll head straight into woodlands with a path to the left that is initially quite steep but then levels off somewhat. Here just follow the path until you reach the top and come out of the woodlands and you'll see Solomon's Temple. Walk to this well known and well loved Buxton landmark for stunning 360º views of the surrounding Peak District and the town.
poolescavern.co.uk/woodland-walks/solomons-temple
3. Buxton to Combs
Best for: Spectacular views
Distance: Approx 6.9km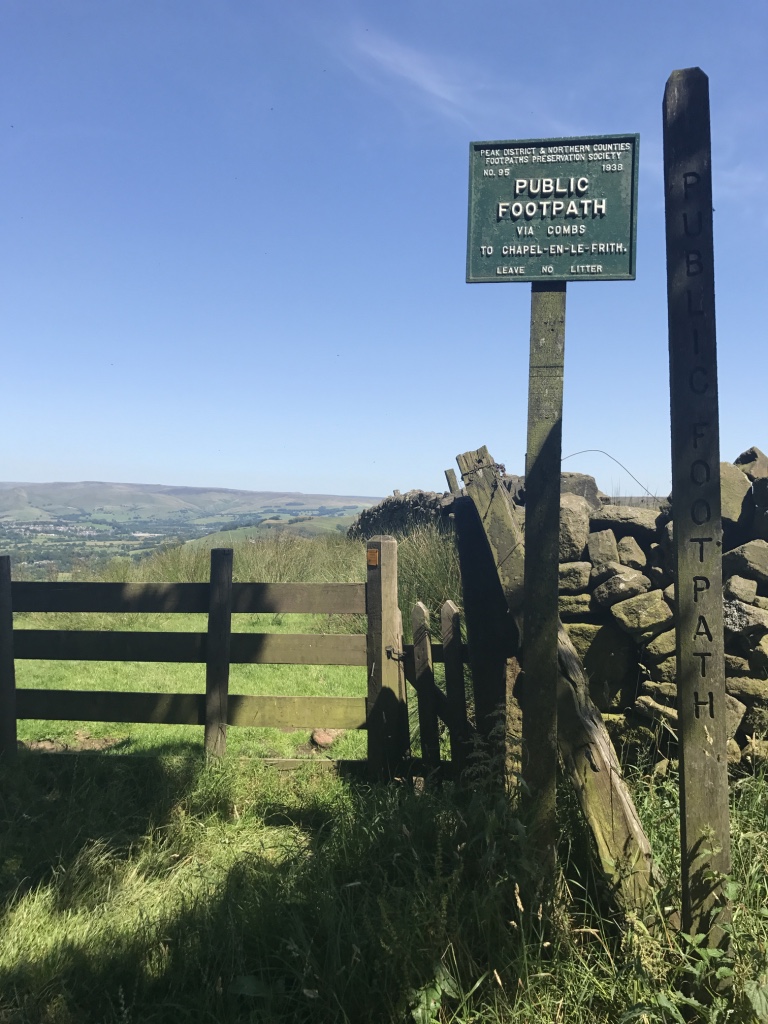 This walk offers some really stunning views, especially as you approach Chapel-en-le-Frith and see Combs in the distance. Wild flowers are in abundance and you probably won't see that many people either. From Buxton you need to head towards the White Hall centre on the A5004 – you then go right onto the Old Road which then becomes Lesser Lane and then you drop down into Combs. There are various ways you can go – whether that be through the countryside or along the road. Old Road and Lesser Lane give lovely views across to Fernilee and as you approach Combs the views across Chapel and the surrounding hills really are stunning and arguably some of the best views in the Peak District. You drop down into Combs where you'll eventually arrive at The Beehive pub and you can treat yourself to a well deserved drink. Google maps can assist with this one or you can try:
walksfromthedoor.co.uk/i/walks/Derbyshire/Combs/BeehiveInnCombs.pdf
4. The Roaches and Luds Church
Best for: eye-opening geology
Distance: approx 8km
This spectacular White Peak trek leads past the crazed gritstone formations of The Roaches escarpment, one of the Peak District's best-known natural features. It is an area with links to Arthurian myths – Sir Gawain and the Green Knight are said to have done battle in the high-sided chasm known as Lud's Church, which you will pass through – and the exposed, rocky trail is also a good place for spotting peregrine falcons.
5. Pavilion Gardens and the Serpentine
Best for: On the flat – good for people with walking difficulties or in a wheelchair
Distance: Approx 1.6km
A nice easy stroll on the flat and easy to reach from the town centre with lots of greenery along the way and probably lots of ducks and geese! Begin at the Old Hall Hotel and walk up to the Opera House. It is just worth taking a moment to have a quick look inside the lobby at this glorious Frank Matcham theatre. Now head back into the gardens – you can wander about in any direction, recommended to head towards the large lake towards the other end as that's always very pleasant. Then head across towards the swimming baths and go onto Burlington Road. Cross over to the entrance of Serpentine Walks; one of Buxton's best kept secrets – this small park is often much less crowded in busy summer times and there are plenty of pretty places to stop or sit by the river. It's only small so you'll be round it in no time.
explorebuxton.co.uk/pavilion-gardens-buxton-whats-on-2020
6. Buxton Coal Mining Heritage Trail
Best for: Industrial heritage
Distance: Approx 1.6km
Coal mining is not something commonly associated with Buxton but there are traces of a 300 year old industry if you know where to look. Fortunately, the town's Civic Association have produced a handy walking guide that makes it easier to find. This walk takes you from Buxton onto Macclesfield Old Road and then onto Axe Edge Moor and the 'Cat & Fiddle Road'. It's bleak and perhaps not as pretty as other walks but there's hidden clues in the landscape about Buxton's once coal industry which makes this an interesting one. The full trail and what to see can be found here:
explorebuxton.co.uk/walk-into-buxtons-coal-mining-past
7. Burbage Edge
Best for: A mixed bag with lots to see along the way
Distance: Approx 4km (unless you continue to the Goyt Valley)
A lesser known walk perhaps to visitors to Buxton, you get to see different vistas along the way. From the Pavilion Gardens, you can head straight up St. Johns Road, it's self a pleasant meander. You need to turn right onto Bishop's Lane. This takes you into a lovely little enclave of Buxton with and as you head onto the long stretch of Bishop's Lane the road is lined with trees and as such there's lots of different birds to see; there usually lots of friendly Robins and various others to see. As you reach the top, keep going and follow the road round to the right. You don't need to go too far before you see a style to climb over on the left hand side of the road – this takes you into the woods that will take to the top of of Burbage Edge. It's a steep climb but well worth it for the rewarding views of Buxton. If you continue a little further you'll see the old railway tunnels and Goyt Valley in the distance – so if you're feeling fit you can continue on. There are trails all over here so take your pick.
8. Lightwood
Best for: Wildlife – lizards, dragonflies, frogs, toads, owls…
Distance: Approx 4.8km
A favourite walk amongst locals, Lightwood was once home to Lightwood Reservoir, and is one of Buxton's best kept secrets; a pretty place with a lonely serenity reinforced by the seemingly endless stretch of moorland that lies beyond it. It's now a haven for wildlife and on warmer days you can see the lizards basking on the wall near the pond at the top. From the town centre you can walk up Lightwood Road and keep going until the road turns to gravel and just follow the path. You can do the circular walk round the old reservoir, or, walk along a path that cuts right through it – you're likely to see more wildlife that way. In summer spot gorgeous bright blue damsel flies hovering over the big pond, butterflies and moths fluttering amongst the overgrowth and and in Spring time – frogs and toads. If you go when it's dark and climb the nearby hill towards to the TV mast – you might be lucky enough to spot an owl, but you'll almost certainly hear them in the woods if you're quiet.
9. Chrome Hill from Buxton
Best for: Geology and limestone flora
Distance: Approx 10km
You can walk a couple of different ways but the route via Burbage is pretty along the A53 as you approach Ladmunlow. Surrounded by rugged Peak District countryside turn left by the Health and Safety Laboratory site and keep walking along that road. At one point the road will split into two so take the right fork of the road. The road then splits again – take the right turn again – there's a cattle grid at this turn. Chrome Hill will be in your view now. You can take several routes – which ever you choose you can also go onto to nearby Parkhouse Hill if you wish. Both Chrome and Parkhouse Hills are SSSI (Sites of Special Scientific Interest), areas with fascinating geology and limestone flora.
10. Ring of Trees Circular Walk
Best for: Industrial heritage
Distance: Approx 16km
This ten mile stroll takes in a number of pretty woodlands on the peripheries of Buxton; some well-known, others less so. This trail can be broken up in several separate walks too. The Buxton Civic Association devised this trail and you'll find a handy map you can print off on their website. It's worth looking at covering the entire trail over 2 days, unless you're really keen – because there's quite a lot to look at along the way including a working farm where they have a small shop selling produce which was great to see. You can also buy the guide book to this walk at Poole's Cavern gift shop. A lovely spot on this walk is Gadley Woods where you can hear the sound of the stream running and it's usually relatively quiet too.
buxtoncivicassociation.org.uk/estate-and-map
11. Goyt Valley and Errwood Reservoir Circular Walk 
Best for: Less crowded and a peaceful walk with stunning views across the moorland
Distance: Approx 12.8km
Head out of Buxton into Burbage along the A53, turning into Bishops Lane. This walk will take you to the Goyt Valley and scenic Errwood Reservoir. You can enjoy great views across the Peak District along the way. You'll pass along fairly easy moorland paths but it can get muddy in places. This walk takes you all the way round the reservoir coming back into Buxton.
Don't forget to take a quick detour to the heart of the Goyt Valley to see the ruins of the Victorian mansion of Errwood Hall.
goyt-valley.org.uk/project/buxton-errwood-walk