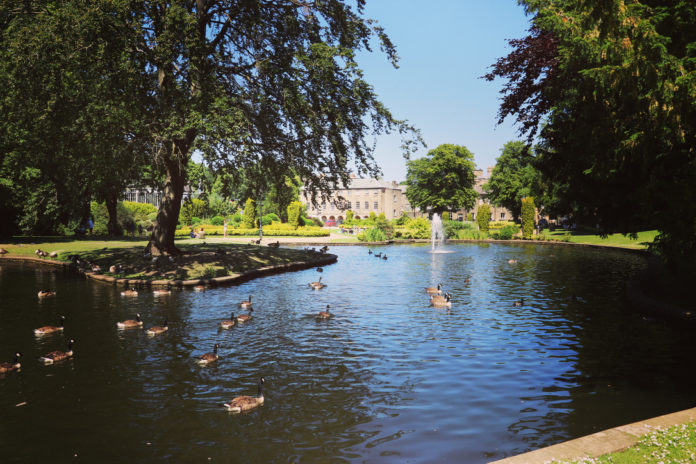 If you're looking for things to do in Buxton over the Bank Holiday weekend, we've rounded up some of the best finds, with something for all the family. Please do keep in mind that businesses are operating differently now, so where tickets are required, advance booking is often required. If you want to check general local information for Buxton, check our Know Before You Go feature – a national campaign headed by VisitEngland to support tourism recovery and help to reassure visitors, build consumer confidence and encourage them to visit responsibly. Enjoy the long weekend…
1. Buxton Raceway on Bank Holiday Monday
Buxton Raceway is 'back with a bang' as they say, and there's plenty of action on Bank Holiday Monday with a varied selection of racing classes on offer to entertain everyone. Adult tickets are £17, Children £9 – 15yrs £6, OAPs £15, children up to the age of 8 go free. Trackside parking is £8. Tickets must be purchased online (no tickets at the gate) – book via their website at buxtonraceway.com
2. Poole's Cavern and Buxton Country Park
The spectacular cavern tours are now fully booked until Tuesday September 1st but the country park woodland trails are always open and free to access, an ideal place to have a roam around and enjoy some fresh air! There's spectacular views at the hill top viewpoint at Solomon's Temple, which sits at 1,440 ft above sea level. There's also a nice shady picnic area next to the entrance of the visitor centre and gift shop and also large car park. Cavern tours must be booked online at
poolescavern.co.uk
3. Bank Holiday Special event at Pavilion Gardens
Pavilion Gardens sees the return of its popular Octagon Hall events this weekend with its Bank Holiday Special event. As well as stalls in the Octagon, you'll find children's rides along the promenade and the Boating Lake and Miniature Train will be open. Read more here.
4. Walk or cycle the Monsal Trail
The Monsal trail is a disused railway line closed in 1968 and recently converted in 2010 – 2011 into a new traffic-free cycle track, allowing people to cycle from Blackwell Mill, Nr.Buxton to Bakewell. The trail offers lovely views along way as well as wild flowers butterflies, dragonflies and more. Blackwell Mill Cycle Hire, just outside Buxton, is at the start of the eight and half mile trail which follows the river Wye, taking you through several opened lit tunnels, between steep gorges, surrounding lime stone hills and across the spectacular Monsal Dale viaduct making this an exceptional cycling or walking experience. You'll also spot some of Derbyshires best industrial heritage too. Visit their website to find out more about booking a bike: peakblackwellcyclehire.com
5. Explore two floors of art at The Green Man Gallery
Having just recently reopened, the gallery is a great place to lose a few hours and explore original art work, all created by local artists. The gift shop has a lovely selection of items to purchase made by the artists. Best of all, it's free entry. The gallery is open 10.30am – 4.30pm, Saturday, Sunday and Monday over the Bank Holiday weekend. Find out more at facebook.com/TheGreenManGallery
6. Explore your inner Tarzan at Go Ape in Buxton
There are timed slots available to book for Saturday, Sunday and Monday this weekend – Monday currently has more availability but if you have decided this is what you fancy doing, book as soon as you can, it's always hugely popular at the best of times. In walking distance from the town centre, you'll also find the two-million-year-old natural limestone cave Poole's Cavern, in Buxton Country Park here. If you like the idea of swinging through the trees this thrilling outdoor activity is lots of fun and the woodlands are really pretty too. Book tickets here.
7. Gallery in the Gardens 
Having recently reopened on 1st August, the gallery is operated by and featuring art work by the High Peak Artists group and is a permanent exhibition in the Pavilion Gardens. What's great about the gallery is that all art work on display is for sale. The art work is varied and of a high standard, featuring ceramics, screen prints, lino prints, photography, paintings, jewellery and more. If you're looking for a unique gift this is ideal. Find out more about Gallery in the Gardens here in our special feature.
8. Ring of Trees woodland trail 
The Ring of Trees trail takes you all the way around Buxton, through various pretty woodlands – but have you walked it all? The woodlands are lovely in summer with various flora and fauna to see. A cheap day out offering a good walk if you don't want to venture further into the Peak District. Go to Buxton Civic Association website where you can find a map of the trail to follow and lots of local information, points of interest to look out for along the way and wildlife you might see.
9. Search for lizards (and other wildlife) at Lightwood
A favourite walk amongst locals, Lightwood was once home to Lightwood Reservoir, and is one of Buxton's best kept secrets; a pretty place with a lonely serenity reinforced by the seemingly endless stretch of moorland that lies beyond it. It's now a haven for wildlife and on warmer days you can see the lizards basking on the wall near the pond at the top. From the town centre you can walk up Lightwood Road and keep going until the road turns to gravel and just follow the path. You can do the circular walk round the old reservoir, or, walk along a path that cuts right through it – you're likely to see more wildlife that way. If it's a warm day you can spot gorgeous bright blue damsel flies hovering over the big pond, butterflies and moths fluttering amongst the overgrowth and and in Spring time – frogs and toads.
10. Walking trail: Explore Buxton's coal mining heritage
Coal mining is not something commonly associated with Buxton but there are traces of a 300 year old industry if you know where to look. Fortunately, the town's Civic Association have produced a handy walking guide that makes it easier to find. You can read our review of this trail here when we decided to give it a go. The evidence of a bygone trade is astonishing and so are the views once you reach the so-called Cat & Fiddle road and Axe Edge Moor.

11. Practice your shots at Peak Practice Golf
Open all Bank Holiday weekend 10am – 6pm (these are the normal opening times), there is availability for all three days currently. Bays need to booked in advance. The golfing range here is really good fun and you practice your shots to perfection. Find out more on their website at peakpracticegolf.co.uk
Did You Enjoy This?
You might like our regular newsletter. We put all the best events, cultural highlights and offers from Buxton and the Peak District in your inbox every fortnight.
This information will only be used to send you this newsletter. It is stored in Mailchimp.