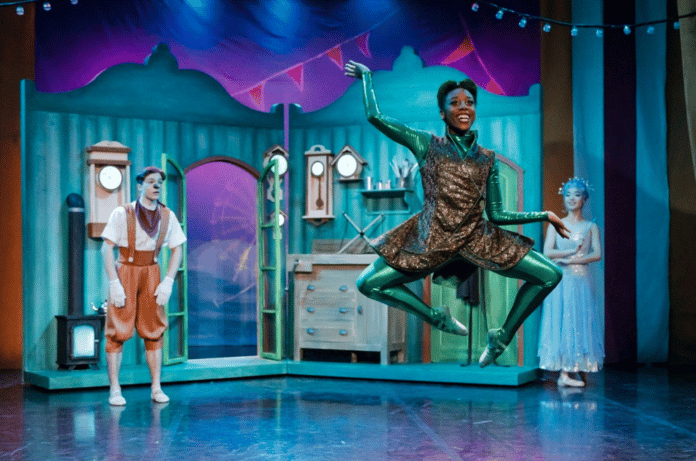 In a faraway land, a hard-working and lonely carpenter wishes for his puppet Pinocchio to come to life.
By the magic of a wishing well his dream comes true! Pinocchio is playful and mischievous and must prove himself worthy of becoming a real boy. Join Pinocchio on his adventure as he discovers that where there is love and honesty, there is always magic.
An original retelling of the classic children's story, the child friendly 40-minute ballet has been created especially for children and their families to experience live dance, music and theatre together.
Pinocchio follows in the footsteps of seven previous children's ballets by the dance company, which achieved huge popularity live on stage, in CBeebies TV adaptations and in cinemas nationwide.
Pinocchio marks the choreographic debut by Northern Ballet's Junior Soloist Gavin McCaig, Pinocchio will be performed to music by Ian Stephens, played live by members of Northern Ballet Sinfonia.
This original ballet is based on The Adventures of Pinocchio by Carlo Collodi.
The child friendly performance lasts approximately 40 minutes and is suitable for ages 3+.
Pinocchio is on at Buxton Opera House on Tuesday 8th February 2022 with two performances at 2.30pm and 4.30pm.
Tickets are priced Adults £8, Children £7, School groups (10+): £5.
To buy tickets and for more information call the Box Office on 01298 72190 or visit buxtonoperahouse.org.uk/event/pinocchio
Buxton Opera House, Water Street, Buxton, SK17 6XN
T: 01298 72190
Did You Enjoy This?
You might like our regular newsletter. We put all the best events, cultural highlights and offers from Buxton and the Peak District in your inbox every fortnight.
This information will only be used to send you this newsletter. It is stored in Mailchimp.