Have you ever been to The Heights of Abraham in Matlock Bath? Only 22 miles away from Buxton, "Little Switzerland" as it has long been nicknamed is a must for any visitor or resident alike. With a thrilling cable car ride, magnificent views of an extraordinary landscape and billions of years of history, it's a perfect day out for the family.
The Heights of Abraham reopened for the 2021 season on Monday 12th April at 10am. Derbyshire's award-winning family attraction has launched a special 'Outdoor Period' cable car ticket that allows access to the 60-acre hilltop park, two adventure playgrounds, heritage trails, gardens and viewpoints.
The Vista Restaurant, Bar and Terrace Café is open for takeaway, outdoor and terrace dining and refreshments overlooking the spectacular Derwent Valley. New sheltered areas have been constructed for family and friends to meet, relax and take in the views. All picnic sites are also open, and guests are welcome to bring their own food or purchase picnic goodies, cakes and snacks from the café.
The High Falls, Summit and Tavern Gift Shops are open for business, inviting visitors to browse sparkling gemstones, Blue John jewellery and purchase souvenirs of a day out at Derbyshire's oldest tourist attraction.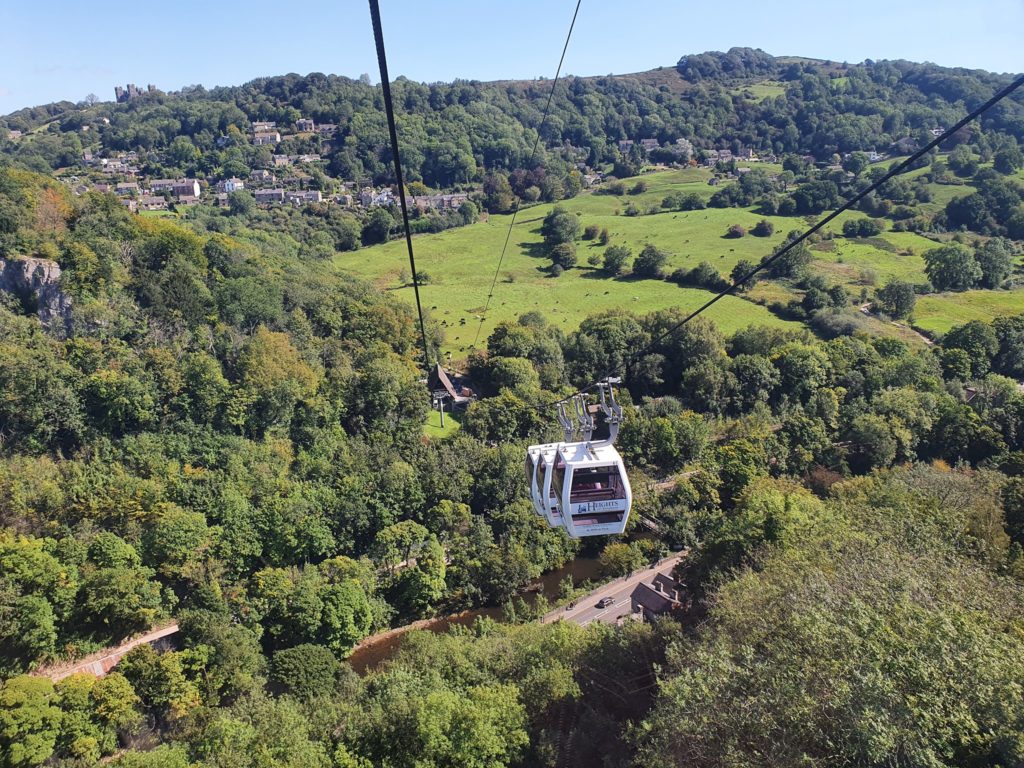 Two important historical landmarks are also be fully accessible. The Victoria Prospect Tower built in 1844 provides sensational open-air views of the countryside, and Tinkers Shaft, a faithful recreation of early mining equipment used to haul lead from the caverns below.
A new self-guided audio trail has been launched to coincide with the start of the 'Outdoor Season', inviting guests to learn more about the heritage and history of the estate by accessing narrations via their own smart phones at 14 locations of special interest throughout the hilltop park.
Nature loving children will be given their own outdoor activity leaflet containing puzzles, a nature trail and I-SPY challenge to test their observation skills during their visit.
Rupert Pugh (Director) said; "We are delighted that our cable car flights are taking off again welcoming guests back to the Heights. Over the winter we have continued to make improvements to the estate, and I am especially pleased with the new sheltered terraces. It's only taken 150 years for these to come back into fashion here at the Heights, and I'm sure the Victorians would approve!"
The Heights has introduced a limited daily capacity to effectively manage social distancing for the comfort of all guests.
Tickets can now be purchased in advance online at heightsofabraham.com
Entry / Tickets: The special 'Outdoor Period' runs from 12th April until at least the 16th May 2021. Cavern tours and indoor exhibition areas will remain closed for the time being. Adult £14, Child (aged 5 to 15) £10, Under 4s free.
Did You Enjoy This?
You might like our regular newsletter. We put all the best events, cultural highlights and offers from Buxton and the Peak District in your inbox every fortnight.
This information will only be used to send you this newsletter. It is stored in Mailchimp.