Whether you're looking for a gift with a difference, or, original art for your home, Gallery in the Gardens has works by artists covering a multitude of disciplines featuring various forms of painting; printmaking, photography, ceramics, sculpture, glass, wood, textiles & jewellery.
Few gifts are more memorable than something that's completely unique and the gallery has a wide variety of affordable artwork and jewellery – all handcrafted by the High Peak Artists' group from around the region.
Small statement pieces with big impacts…
If you're looking for original art work on a smaller budget, you'll find everything here from silver earrings, colourful watercolours, ceramic creatures, mosaics, lino prints, hand carved wooden coasters, hand crafted scarfs and more.

Handcrafted jewellery for every occasion
Two cabinets contain an array of hand-made jewellery by some of the region's best designer jewellers. With items made from silver, aluminium, copper, glass, ceramics, textile, gem stones & resin, you'll be spoilt for choice.
Award winning artists
The gallery continually showcases award winning and acclaimed artists from in and around the Peak District and East Midlands region including such as Pauline Townsend, Jill Kerr, Louise Jannetta, Yvonne Oates, Catriona Hall, Kathy MacMillan and Ingrid Katarina Karlsson.
The gallery, located inside the Pavilion Gardens, shares the space with the Retail Hall which opened earlier this year – so you can make a full day of your visit here. The retail hall has variety of local artisan producers selling bread, cakes, chocolates, cheese, coffee, gins, beers, wines, vintage teas, aromatics, pet accessories, books & lots more. And don't miss the Cheshire Cheese Company tasting counter – free cheese tasting every day.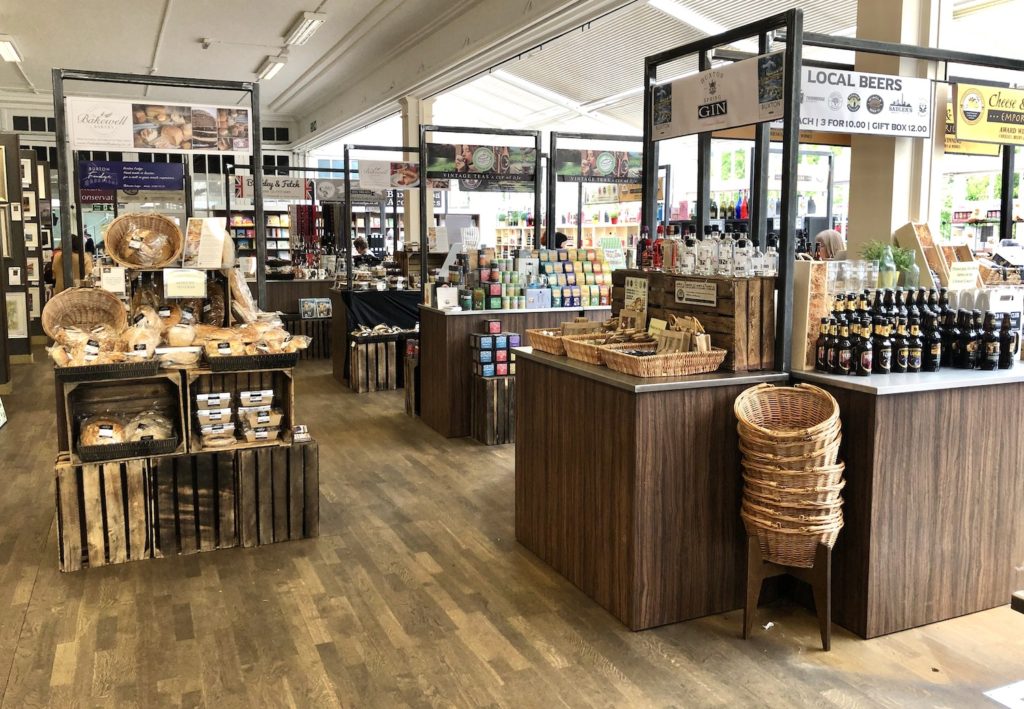 If you wish to purchase any artwork or have questions, artists are on duty in the gallery every day and are happy to talk about the work on display.
If you fancy a spot of lunch or a coffee during your visit, the newly opened Pavilion Kitchen is located next door. Customers who like to buy the artists' cards will find them on the right hand side wall in a brand new large greeting cards rack. With the gallery now sharing the retail space in the Retail Hall, you'll find many local artisan producers selling bread, cakes, chocolates, cheese, coffee, gins, beers, wines, aromatics, pet accessories, books & more – you can make a day of your visit here.
If you are a local artist interested in exhibiting your work, a waiting list operates and membership is by selection. Get in touch to find out more.
---
Opening times:
December 2019: Monday – Friday 9.30am – 3pm; Saturday – Sunday 9.30am – 4.30pm.
January 2020: Monday – Friday 11am – 4pm; Saturday – Sunday 11am – 4pm
Email: [email protected]
Gallery in the Gardens, Pavilion Gardens, St. John's Road, Buxton, SK17 6BE
T: 07849 673058 / 01298 23114
Did You Enjoy This?
You might like our regular newsletter. We put all the best events, cultural highlights and offers from Buxton and the Peak District in your inbox every fortnight.
This information will only be used to send you this newsletter. It is stored in Mailchimp.