The fan window built in 1863 at Buxton Station is a well known landmark in the town, greeting rail passengers to and from their destination along the Buxton to Manchester line. Following repair and restoration work in 2019 (following vandalism which broke glass panels) organised by the Friends of Buxton Station, the fan window is just one of many improvement projects which have slowly transformed Buxton Station since the volunteer group rejuvenated in 2015.
After noticing the repair to the fan window as well other vast improvements in and around Buxton station, we decided to find out more. Dave Carlisle, chair of the group and his wife Sue Mellor, showed us round the station to talk us through the various work and projects carried out and also their plans for the future.
Originally set up in 2010, the Friends of Buxton Station group took on a new direction in 2015 and actively sought to focus on the station environment and how they could improve users' experience – as well of course enhancing the image of Buxton when visitors stepped off the train. Dave Carlisle, said, "our primary aim for the group was and still is to make the station more welcoming and comfortable, making it a proud gateway to our lovely town."
But it didn't stop there and since 2015 it's become much more than simply improving station surroundings and making them look better.
Art and creativity is a key element which has breathed colour back into the station. A Japanese Garden, art work and murals displayed in the ticket office and along the platforms (by local artists) Joe the statue – made from parts from the former 'diesel sheds', have all really brightened up the station.
The Japanese Garden at the end of the rail track was a major project. "This previously overgrown area of land under the Grade II listed fan window has enhanced the area here hugely and station users have commented on how much like it and it's something pleasant to look at when waiting for a train." The area certainly does a great job of replicating the calming ambience of Japanese gardens and the design incorporates the railways itself with buffers used as planters for example.
Aside from enhancing the station visually, the group was keen to improve comfort for passengers. Additional benches have been installed outside the station and further seating added to platforms 1 and 2. "The platform benches were surplus to requirements at Liverpool's Lime Street Station and we got to hear about it, so made a successful plea for them to be installed at Buxton", said Dave.
In 2019, an automatic door was fitted to the entrance to the ticket office, making it easier for wheelchair users.
Working in partnership with Buxton Civic Association, the group acquired an old-style red telephone box last year (saved from the scrapyard) and turned this into a Defibrillator Station positioned on Platform 2 with a 24-hour accessible defibrillator inside.  "We're keen to to continue to make the station as accessible as possible and there are further plans to do more work around this", said Dave.
Another angle to the work of the Friends group is to give the environment a helping hand; four bat boxes have been installed as well as a nesting box for robins and a bee hotel (made by local pupils) in an area just away from Platform 2. Troughs from recycled softwood railway sleepers have also been made for the platforms to house cheery plants to encourage insects.
Their hard work has certainly been recognised since re-forming in 2015, winning several times at the National Community Rail Awards since 2016 – now proudly on display in the ticket office.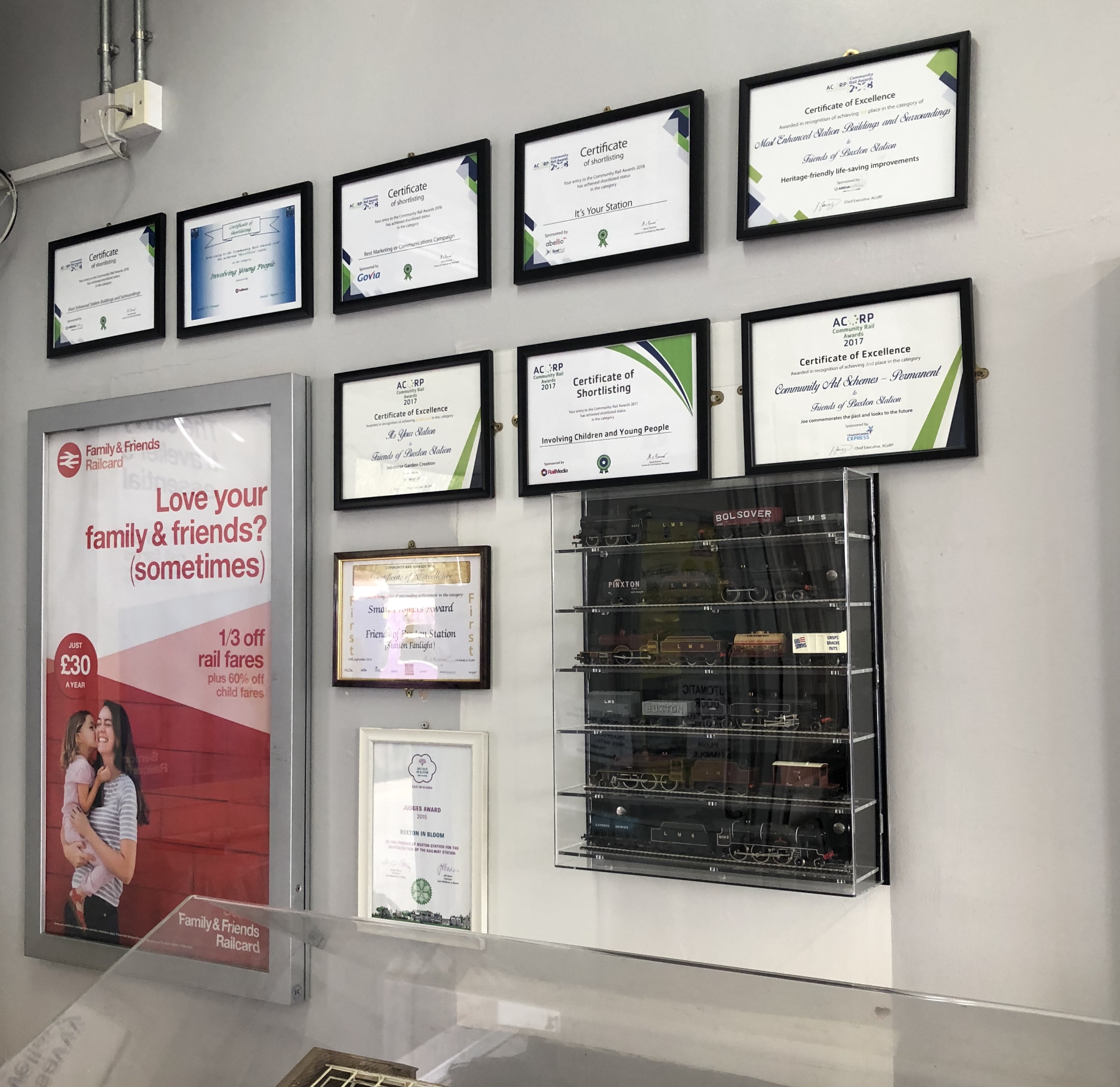 "There are several more projects in the pipeline which include further additions to the Japanese garden, USB charging plugs in the tickets office and heritage signage on the station – promoting Buxton further as a key tourist destination. We've also just started working with Buxton Lions to restore vandalised bench seats in Buxton ", explains Dave.
To find out more and to follow their progress, join their Facebook group at facebook.com/fobs
Did You Enjoy This?
You might like our regular newsletter. We put all the best events, cultural highlights and offers from Buxton and the Peak District in your inbox every fortnight.
This information will only be used to send you this newsletter. It is stored in Mailchimp.