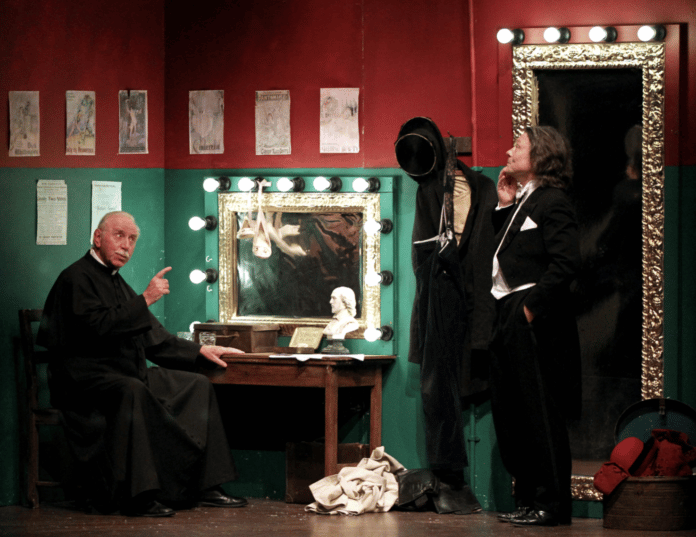 Mild-mannered priest Father Brown always seems to be in the right place at the right time … if you count always being around when a murder is committed as being in the right place!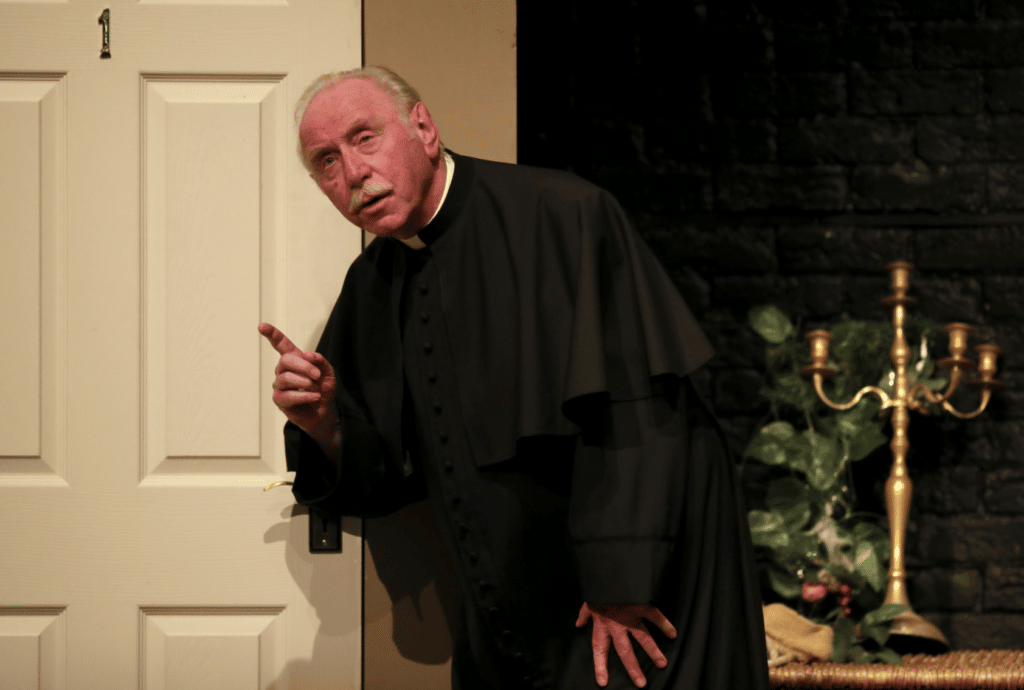 When a famous actor is found dead just before the opening of his latest West End production, Father Brown – invited to watch the dress rehearsal – sees at once in the shattered dressing room mirror that all is not as it seems. And if all the possible suspects were on stage at the time, watched by Father Brown, who could possibly be the murderer!
John Lyons (hugely familiar to audiences from his 17 years as DS George Toolan, David Jason's sidekick in A Touch of Frost) joins us once again to play Father Brown. John's other TV appearances include Upstairs Downstairs, The Onedin Line, On the Buses, George and Mildred and The Sweeney.
Father Brown – The Murderer in the Mirror is "a murderous treat" (leftlion.co.uk), "top class" (whatsgoodtodo.com) and "outstanding … superb" (audience reviews). With its colourful array of possible candidates for the hangman's noose, and more twists and turns than Agatha Christie – it's a more than worthy successor to Rumpus' previous Father Brown whodunit …
'Father Brown – The Murderer in the Mirror' is on at Buxton Opera House Wednesday 13th April at 2.30pm and Thursday 14th April 2022 at 2.30pm & 7.30pm.
Tickets are priced at £21 – £23, with discounts available.
To book tickets and for more information call the Box Office on 01298 72190 or visit buxtonoperahouse.org.uk/event/father-brown-the-murderer-in-the-mirror
Buxton Opera House, Water Street, Buxton, SK17 6XN
T: 01298 72190
Did You Enjoy This?
You might like our regular newsletter. We put all the best events, cultural highlights and offers from Buxton and the Peak District in your inbox every fortnight.
This information will only be used to send you this newsletter. It is stored in Mailchimp.