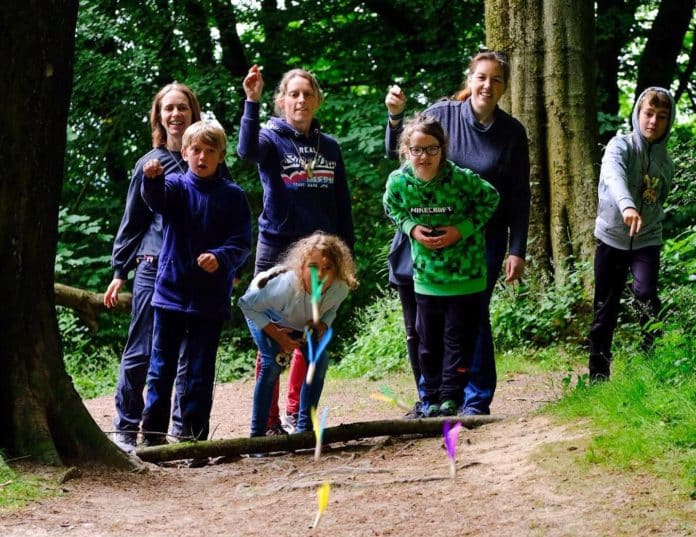 If you haven't already visited Buxton's premier tourist attraction, this season is an ideal time. Not only does it offer an underground journey through two million years of natural and human history but walks through the adjacent woodland whilst it's in full bloom. The cave was once the lair of an outlaw robber but don't worry, Poole has long gone!
Café in the Cavern reopens
Even if you have been before, there are good reasons to return. The Café at the Cavern at Poole's Cavern Visitor Centre is one of the town's best kept secrets and has become a destination in itself for many locals who have caught on that's a peaceful spot to sit, have a drink and perhaps catch a glimpse of some wildlife. The café's homemade cakes and breakfasts (inc. a great gluten free selection) have become particularly famous. There's a large outside picnic area, large car park, gift shop and of course, the cave.
Community events to celebrate Buxton's woodlands
It's easy to rest on your laurels when you're the town's No.1 place to visit but Poole's Cavern keeps up the momentum with an annual programme of events. This Summer saw Buxton Civic Association (operators of Poole's Cavern) launch the Stronger Roots programme; a series of community events and activities to help everyone access and enjoy Buxton's woodlands, celebrating our green spaces and the well being and health benefits they can bring to us.
Don't miss Woodland Tuesdays during the summer holidays for free craft sessions with local artist and storyteller Creeping Toad – if the kids are bouncing off the walls and you think they would benefit from some educational fun in the fresh air, take them along. The Stronger Roots project runs until March 2022 so it's worth checking their Eventbrite page regularly as more activities are added; children and adults alike can put their learning to the test with further adventures in the woods.
If you have especially energetic family or friends, you could consider the Go Ape! climbing experience nearby.
The reason why Poole's Cavern and Buxton Country Park wears the crown is because it caters for everyone. You may be visitors to town, hungry to learn about Buxton's unique and eccentric past. You may have lived in Buxton for years and just want a cup of tea and a slice of cake after you've taken the dog for a walk. Perhaps the kids just need some supplementary education and exercise. The cave and park have it all. Plan your visit here.
Poole's Cavern & Buxton Country Park, Green Lane, Buxton, SK17 9DH
T: 01298 26978
Book entry tickets: poolescavern.co.uk
Did You Enjoy This?
You might like our regular newsletter. We put all the best events, cultural highlights and offers from Buxton and the Peak District in your inbox every fortnight.
This information will only be used to send you this newsletter. It is stored in Mailchimp.