As both a long-term resident and paranormal investigator, I've been struck by the lack of ghostly goings-on in Buxton. Given the antiquity of the place, you would expect entire legions of spooks to be marching around its historic streets. That said, there are certain locations that do seem to crop up regularly in my investigations so if you're looking for somewhere to encounter otherworldly inhabitants this Halloween (or avoid them), I have a few suggestions:
Grinlow Woods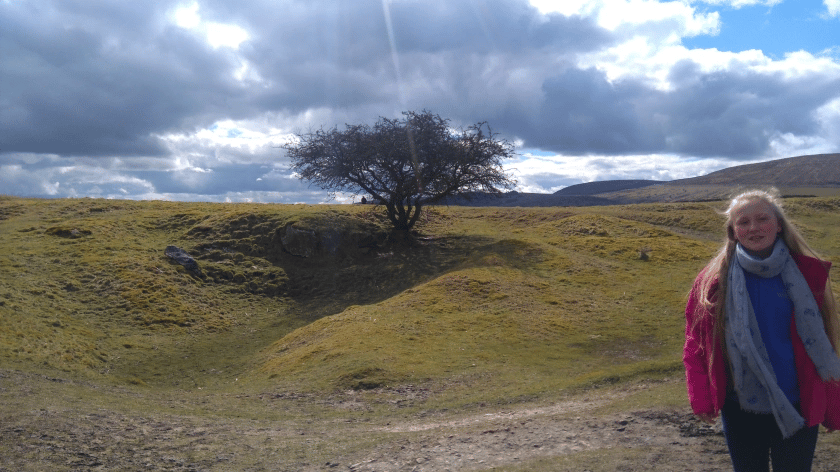 Those who read my blog regularly at wordlofwolfson.co.uk will already be aware of this repeat offender. After sharing my sighting of a procession of cloaked figures in Grinlow woods, I received a flurry of other peculiar sightings including devil dogs, UFOs and more mysterious monks. Of course, the paths that snake through the trees of Grinlow make for a very pleasant stroll during the warmer months. The woodland takes on an eerier demeanour in Winter, when the leaves have fallen and skeletal trees remain, dripping with menace; those who walk its trails may well get more than they bargained for. At the treeless summit of Grinlow is the stone-built folly commonly known as Solomon's Temple, which was built on a Bronze Age burial barrow. The skeletons of its former occupants reside in the town museum. By this point, you will have left the shadow of the woods but as you can see by this photo, that doesn't mean you are safe from a phantom stalker.
Poole's Cavern
At the bottom of Grinlow Woods is the show cave called Poole's Cavern, which offers a guided journey into the limestone depths beneath the woods. When someone tells you about something strange they've seen, it's easy to poke fun. As a paranormal investigator, I try to be more open-minded and I don't laugh at people, especially when they turn visibly pale, recounting a frightening experience they can't explain. Tour guides who have worked at Poole's Cavern have told me about shadowy figures and whispering voices in the farthest reaches of the cave when all the visitors have gone. As one employee summarised "I didn't used to believe in ghosts but after what I've seen and heard down't cave, I'm not so sure". Famously, Mary Queen of Scots was fond of visiting Poole's Cavern and some say her spirit still dwells here, minus her head. However, Mary was beheaded in Northamptonshire so if you believe ghosts are echoes of the deceased, we have to assume they can travel.
Old Hall Hotel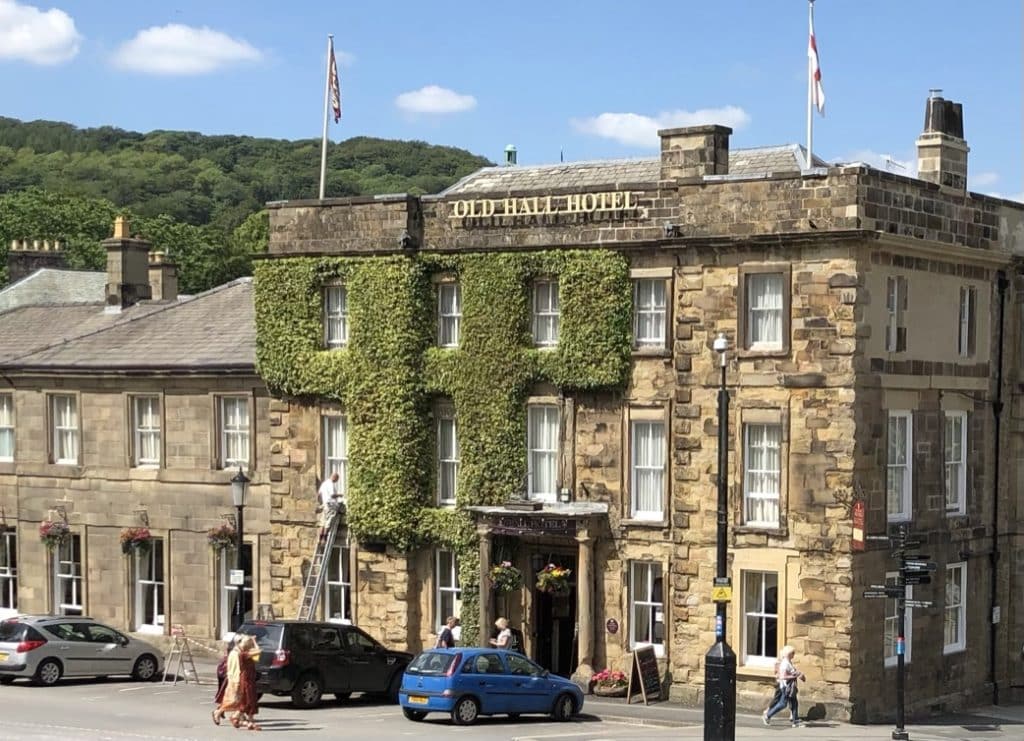 Mary also seems to frequent Buxton's oldest hotel, as she did when she was alive, or at least some sort of apparition has been glimpsed wandering the corridors, scaring the bejesus out of staff and guests alike. The haunting centred on a particular bedroom but in recent times, the hotel has tip-toed away from its status as one of Buxton's most spookiest buildings, probably to attract guests, which is understandable. Bothering the reception staff with questions about ghosts will be most likely met with taciturn expressions. However, if you're walking past the Old Hall's façade, you could chance a glance up at the windows, to see if Mary's severed head is staring back at you.
The Devonshire Dome
Just up the hill from the hotel is the largest free-standing dome in Europe and arguably Buxton's most impressive building. "The Dome" as it is known commonly was built as stables for horses in 1785 (without the dome) and gradually became a hospital and in more recent times, a facility for higher education. The majority of ghost stories I've heard in Buxton come from this place. Almost everyone who has worked or studied there seems to have a tale to tell, everything from ghostly children to phantom footsteps, from vanishing smoke to objects moving by themselves. Sometimes, ex-employees and students report nothing more than an irrational feeling of dread or getting the creeps. In fact, when I wrote a blog about the haunting of the Devonshire Dome on my website, I was inundated with further information. Intriguingly though, no ghost horses.
Chiswick House and Northwood House
Part of the former hospital and university, Chiswick House is worthy of mention by itself as a hotspot for the resident poltergeist. A student told me that she was once the last to leave one of the classrooms. As she was packing up her things, a chair moved noisily across the floor by itself. She refused to go anywhere in Chiswick House by herself ever again. Ironically, the building was home to the Student Wellbeing department. Likewise, further up the hill on Corbar Road is another former university annex called Northwood House, which also had an equally notorious reputation for freaking out the students. The exterior of Northwood House certainly wouldn't look out of place in a Hammer Horror production. If you've always dreamed of owning a haunted house, it's currently for sale.
Darcus Wolfson is currently compiling a book about the sinister side of Buxton. If you have a local story you would like to share, you can email him at [email protected]
Happy Halloween!
Did You Enjoy This?
You might like our regular newsletter. We put all the best events, cultural highlights and offers from Buxton and the Peak District in your inbox every fortnight.
This information will only be used to send you this newsletter. It is stored in Mailchimp.