Designed in 1925 by the world's most famous golf course architect Dr Alister Mackenzie, Cavendish Golf Club in Buxton is one of the best courses in the UK and is regarded as the inspiration for The Augusta National in Georgia, USA where the 2018 Masters takes place this week. The eighteen holes punctuate Buxton's undulating moorland landscape a thousand feet above sea level and offer even the most seasoned of golfers a compelling experience. Famous for its clean air and dramatic topography, Cavendish provides an opportunity to swing your clubs in the heart of The Peak District on a course of such classical design, it has remained largely unchanged since Mackenzie's ingenious conception nearly a hundred years ago.
Relative of Dr Alister Mackenzie makes suprise visit to the club
Mackenzie's great, great nephew, Peter Forster visited Cavendish recently with his friend Matt Bloor from England Golf, the governing body for all amateur golf in England. Vice Captain and Director of Marketing, Mike Watson, said he was "thrilled with the visit and we took the opportunity to learn more about the fascinating family history and found out that Peter and his mother were planning to play the The Cavendish Mackenzie Trail. to which Buxton is central. Peter said they are keen to follow in the footsteps of their famous uncle by playing all 52 remaining Mackenzie courses in Great Britain and Ireland."
The Mackenzie trail was devised by Cavendish in response to demand from golfers looking to play on the game's most visionary designer's courses.
Try before you buy and enjoy an 'Augusta experience' at Cavendish
Whilst most golfers can never hope to play Augusta National, they can get a taste of the challenge by playing Cavendish and there are many ways you can do this:
*Get into Golf' programme, at just £25 for 4 x1 hour sessions at Peak Practice driving range followed by a                         session at Cavendish – with all equipment and balls are provided
*3 month trial membership – an ideal way to get started, both for previous golfers or those who wish to try something                 completely new
*Full membership is just £16 per week – there is currently NO joining fee
Included in England's Top 100 Courses in the last 3 years by National Club Golfer, Cavendish is often compared to Augusta due to the dramatic landscape and layout of both courses, adopting many of the design solutions used at Cavendish.  Golfers can enjoy this unrivalled 'Augusta' experience for just £35 per round.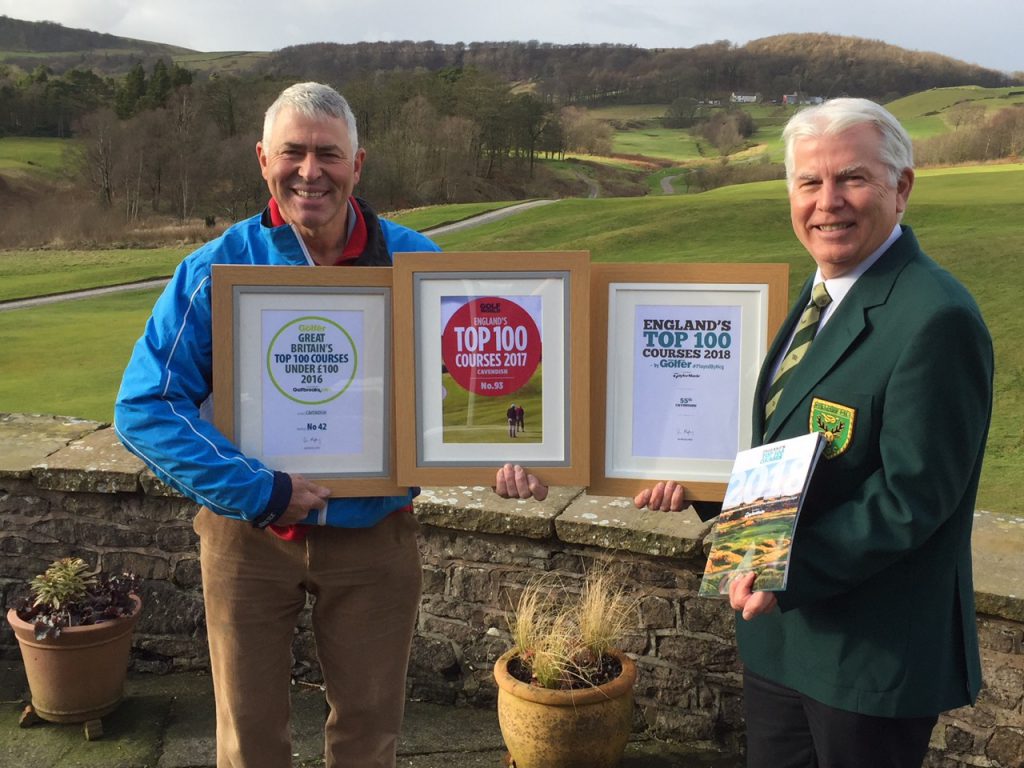 To find out more about playing at Cavendish – contact Rachel on 01298 79708 or via email at [email protected]cavendishgolfclub.com
Play golf, Live Longer?
Research conducted in 2016 by the University of Edinburgh suggested that a game of golf could be the answer to longevity providing many health benefits. "We know that the moderate physical activity that golf provides increases life expectancy, has mental health benefits, and can help prevent and treat more than 40 major chronic diseases such as heart attacks, stroke, diabetes, breast and colon cancer".
"Evidence suggests golfers live longer than non-golfers, enjoying improvements in cholesterol levels, body composition, wellness, self-esteem and self-worth. Given that the sport can be played by the very young to the very old, this demonstrates a wide variety of health benefits for people of all ages" said Dr Andrew Murray, Lead Researcher at the university.
If you're looking for ways to keep fit and healthy at your own pace, then a game of golf could be the answer…
Find out more about playing at Cavendish – contact Rachel on 01298 79708 or via email [email protected]
---
Facebook: www.facebook.com/CavGC
Twitter: @CavGC
Cavendish Golf Club, Watford Road, Buxton, SK17 6XF, Tel: 01298. 79708
Did You Enjoy This?
You might like our regular newsletter. We put all the best events, cultural highlights and offers from Buxton and the Peak District in your inbox every fortnight.
This information will only be used to send you this newsletter. It is stored in Mailchimp.