From the most scrumptious cakes and stickiest buns to the creamiest gelato and heavenly sweets, if you're craving a sugary pick-me-up in Buxton, you're in luck.
Our spa town is home to some of the best sweet treats you can find, so here's our pick of some of our favourites:
Marianne's Kitchen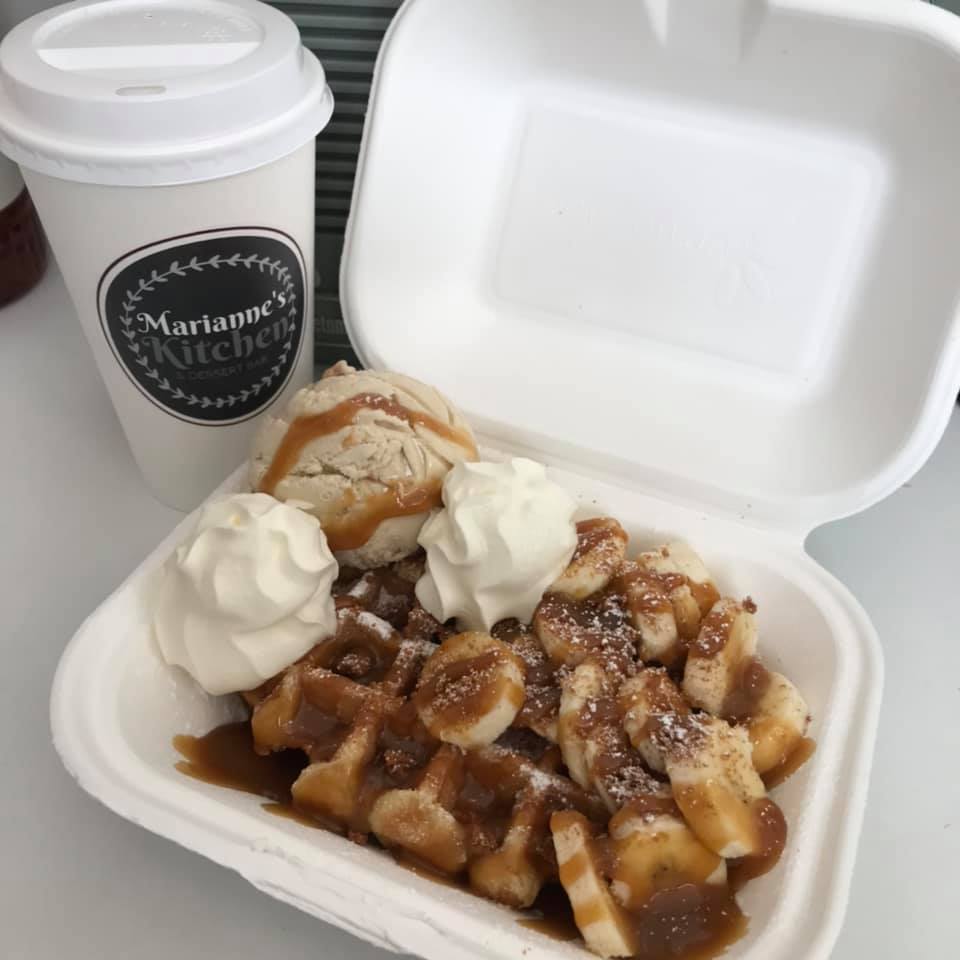 Shakes, waffles, crepes, ice cream and smoothies, that's what you'll find at Marianne's Kitchen and there are tons and tons of mind blowing flavour combos. The shakes feature many of the classic chocolate bars and sweets we love; Crunchie, Skittles, Reece's Cups, Snickers, Kinder Bueno and more. The waffles are pretty serious and served with Canadian Maple Syrup and a splosh of whipped cream, they're delicious to say the least. If you feel like you need to go healthier, the freshly made smoothies come in various zingy fruity flavours. They also serve fresh coffee, teas and cold drinks too.
Mr Simms Olde Sweet Shop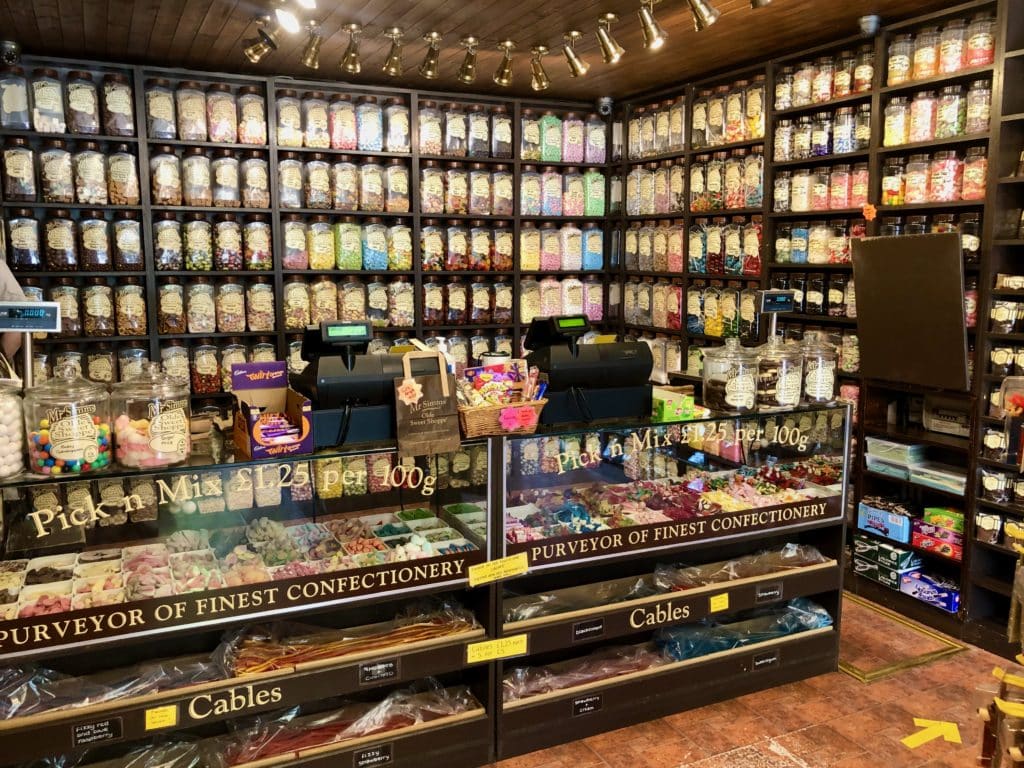 Mr Simms Olde Sweet Shoppe opened their very first shop in Leek in 2004 and now have more than 80 stores worldwide. A traditionally inspired sweet shop, you'll find every one of your favourite sweets here, sold in weight, just like they used to be! Cola cubes, bon bons, pear drops, sherbet lemons, chocolate limes, you name it, they're here. The shop is a cornucopia of sweet treats so there's also novelty faves such as Swizzels Drumsticks and popping candy as well as a great range of American candy and American chocolate bars (Payday, Butterfinger, Baby Ruth and more). Perfect for stocking fillers too.
Eat at No.5
Having earned a reputation as one of top to places in Buxton for eating on the go, whether that's sandwiches, salad boxes, panini's, breakfasts and decent coffee, their homemade cakes are also quite something. Pastries, cheesecakes, muffins, cup cakes, you name it, you can find it here if you feel the need for a sweet treat. There's everything from coffee cake, vanilla slices, chocolate muffins, flapjack and more – but they do go the extra mile with interesting toppings and flavours. We won't temp you anymore, just go on try it yourself, you won't be disappointed.
Pavilion Gardens Ice Cream Parlour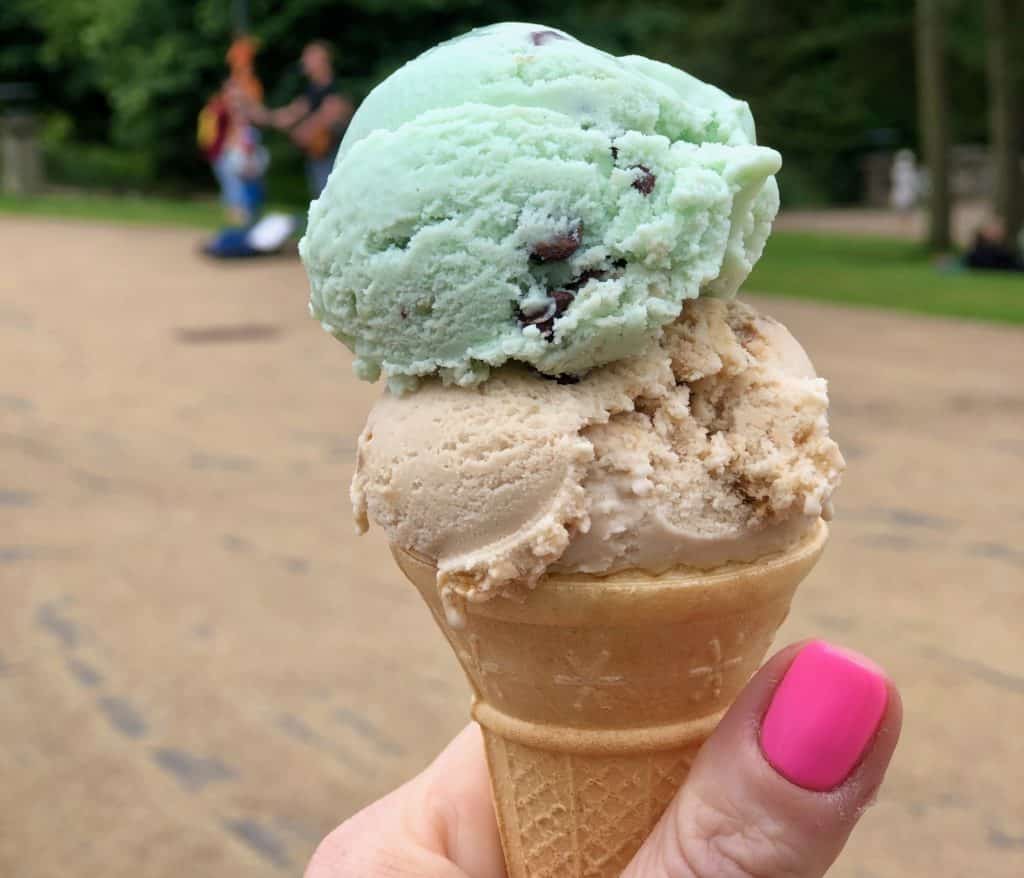 The ice cream parlour at the Pavilion Gardens offers more than 24 flavours of ice cream and is the perfect stop off if you're having a wander round the park. We can highly recommend the Salted Caramel and Mint Choc (see above pic!). If you want to try something different, the liquorice flavour mixes things up a bit. They offer lots of toppings too, as well tubs if you'd prefer that over a cone.
Buxton Pudding Emporium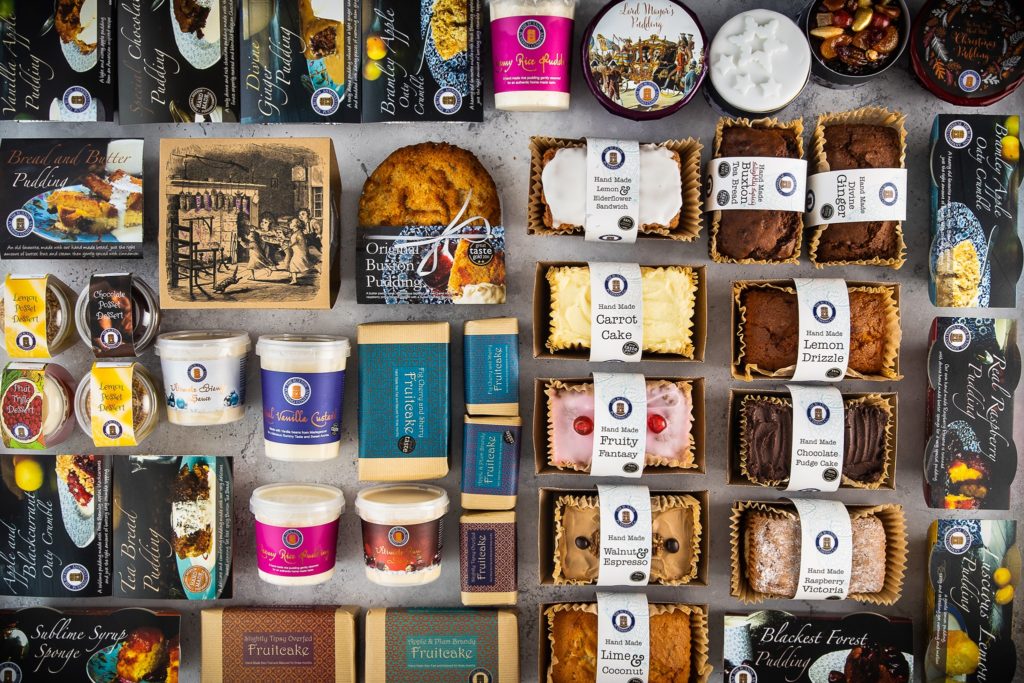 Tucked away in The Square and easily missed, Buxton Pudding Emporium is just that, an emporium of find deli foods, cakes, sweat treats and of course their very own famous Buxton Pudding. The Buxton Pudding served with custard has to be tasted to be believed, it's moorish to say the least. If posh savoury snacks or jams and pickles are your thing, they're here and it's the perfect place to find foodies gifts with a difference. There's also a nice little coffee shop attached, with outside seating and a lovely little room inside where you could also indulge on a tasty treat with a decent cuppa.
Charlotte's Chocolates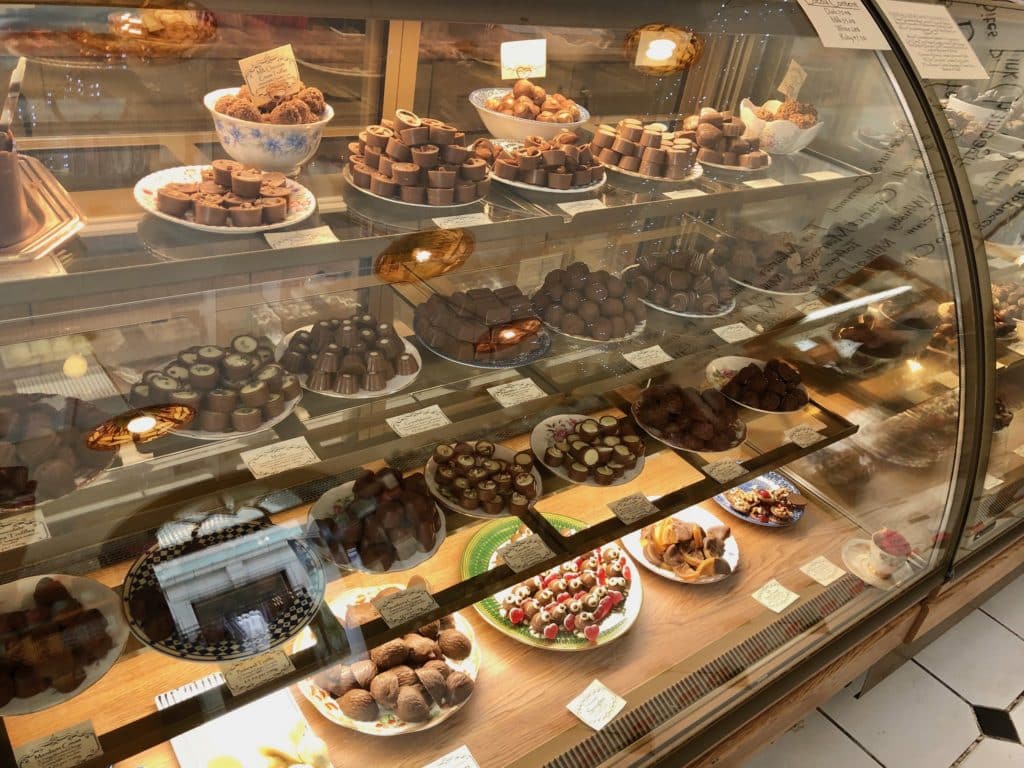 Handmade on the premises, Charlotte's Chocolates offers every flavour you can think of including diabetic chocolates and a rather delicious range of liqueurs . There's always a great selection of pre-prepared gift boxes too. During seasonal times such as Christmas, Valentine's Day and Easter, Charlotte's is definitely the go to place for those essential chocolate treats. You can pick your own selection of the handmade individual chocolates in various size gift boxes and gift bags too; they're sold by weight – perfect if you just fancy three or four all for yourself. The café services a chocolate with every hot drink which is nice.
No.6 The Square
No.6 is always a reliable lunch stop with a great menu of light lunches and snacks. However the homemade cakes in the fridge counter are difficult to avoid once you're ensconced inside! The selection changes all the time but you'll generally always find cheese cake, meringue, carrot cake, coffee cake and various other classics as well as others. There is of course the freshly made scones served with cream and jam which are just lovely. They always offer a couple of great gluten free options in the cake department too (as well as GF scones, which are very nice, we've tried them).
The Chakra Lounge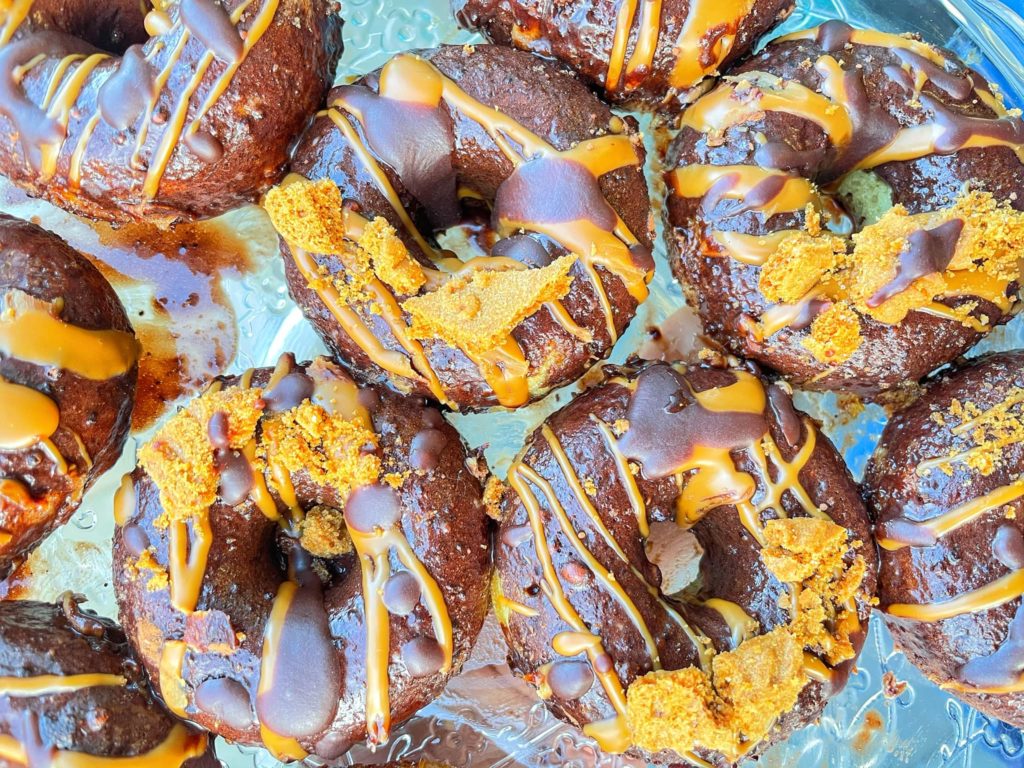 The Chakra Lounge has become somewhat of an institution since it opened in Buxton in 2019, offering favourite western dishes with and an Asian / Indian twist. They're now well known for their flexible menu and extensive selection of gluten free, vegetarian, vegan and diary free menu options (they do also serve meat for those carnivores). They offer takeouts from the menu including cakes and sweat treats from the counter too, there's various delicious cakes, donuts and more. And, the smoothies and iced coffees not only taste great, they look amazing too.
Did You Enjoy This?
You might like our regular newsletter. We put all the best events, cultural highlights and offers from Buxton and the Peak District in your inbox every fortnight.
This information will only be used to send you this newsletter. It is stored in Mailchimp.