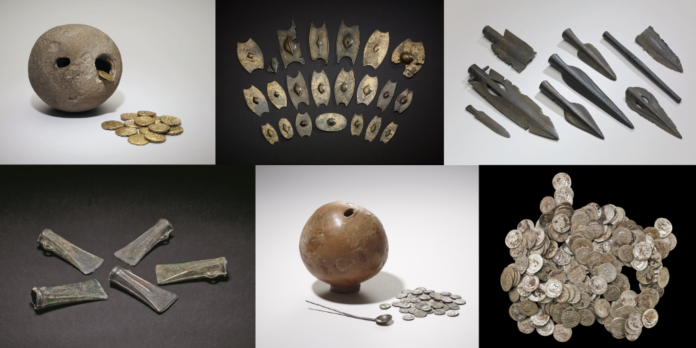 Where: Buxton Museum & Art Gallery, Terrace Road, Buxton, SK17 6DA
When: 13th April – 16th June 2019
derbyshire.gov.uk/leisure/buxton_museum
T: 01629. 533540
About
Entry / Cost: Free
Opening times: Tuesday to Saturday 10am to 5pm (Sundays and bank holidays, from Easter to September 12 noon to 4pm)
Coins with ceramic money boxes, jewellery, silver and other treasure, including spectacular Iron Age gold torcs and recent prehistoric and Roman discoveries from Wessex are just some of the objects visitors can see at a brand new exhibition at Buxton Museum and Art Gallery.
Following on from the hugely successful Hoards display at the British Museum in 2016, Hoards: a hidden history of ancient Britain brings together a glittering of display of finds from the British Museum and The Salisbury Museum exploring the reasons as to why people buried hoards. You can see the local hoards displayed in Buxton Museum's own new galleries –  plus hoards from museums in Sheffield and Derby.
With support from The National Heritage Lottery Fund and Arts Council England, Buxton Museum are hosting a wide range of drop-in, free workshops, talks and children's activities alongside the exhibition. Click here to see the full programme. With activities with something for everyone, children can discover more by designing their own coins, making piggy banks, creating their very own dragon puppet to guard their hoard more.
---
Photo credit (top): Two ceramic pots of silver Roman coins found near Selby in Yorkshire © The Trustees of the British Museum
Did You Enjoy This?
You might like our regular newsletter. We put all the best events, cultural highlights and offers from Buxton and the Peak District in your inbox every fortnight.
This information will only be used to send you this newsletter. It is stored in Mailchimp.