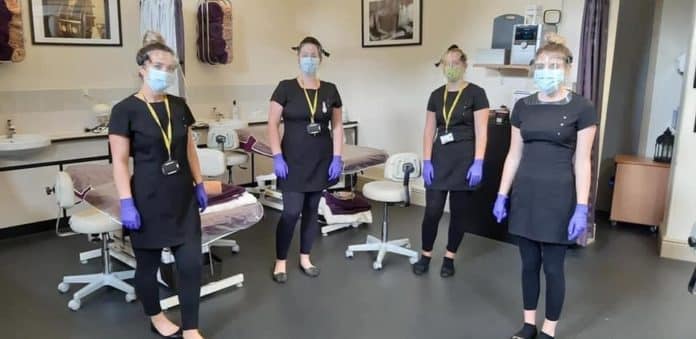 Beauty Therapy learners at Buxton & Leek College are to offer complimentary services in the to front line workers.
The salon beauty therapy team (pictured) are hoping that people who have worked tirelessly during the pandemic, many reaching 'burn out mode' will book in for an appointment over the following two Fridays (14th & 21st May).
Amanda Garrington, Salon Operations Manager, said: ":Historically we have always provided complimentary services to carers and our local support groups alike as part of our wellness agenda.
"It seems a fantastic way to reward our hard-working key staff during exceptional unprecedented times. We hope this will help front line stars to take a little more "me time" and recharge."
Treatments available include facials, manicures, pedicures, and eyebrow waxing.
To take advantage NHS staff should bring their staff ID badge & present it at the Salon reception.
The team have also introduced 'Wellness in the Workplace' with complimentary treatments available to Buxton & Leek College staff on select days.
To book your appointment for a range of treatments call the Buxton salon: 01298 330334 or email: [email protected]
Did You Enjoy This?
You might like our regular newsletter. We put all the best events, cultural highlights and offers from Buxton and the Peak District in your inbox every fortnight.
This information will only be used to send you this newsletter. It is stored in Mailchimp.