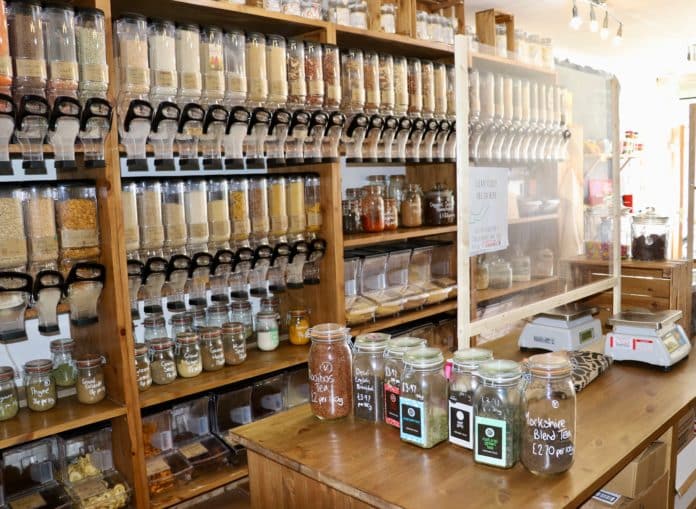 30 High Street, Buxton, SK17 6EU
About
Opening Times: 
Opening times: Monday, Tuesday, Thursday, Friday and Saturday 10am – 5pm, Sunday 11am – 3.30pm, Wednesday CLOSED.
Day Zero is Buxton's first zero waste and plastic free shop – take your own container or buy them in-store, only buy the quantity you need. Range of planet friendly and sustainably made everyday household items also available.
Online shop, local deliveries and Click & Collect now available. Visit their website to find out more.
Wide range of wholefoods, cereals, pasta, gluten free pasta, rice, dried fruit, nuts, herbs and spices. Cereals, baking ingredients and store cupboard tinned food, sauces and cooking ingredients such as Tomato Pureé, vegetarian paté, coconut milk and sesame oil.
Range of dairy free milk such as Oatly, Plamil, The Bridge organic milk products.
Everyday household items (to replace disposable items) such as cleaning cloths, reusable nappies, water bottles, reusable coffee cups, metal straws, sandwich boxes, wax wraps (for food or sandwiches etc.), firelighters and recycled toilet paper.
Oils and sauces such as Derbyshire Rapeseed Oil, Organic Sunflower Oil and Honest Toil Olive Oil, Organic Balsamic Vinegar, Chill Infused Rapeseed Oil and Soy Sauce.
Fair trade, vegan and raw chocolate treats, chocolate coated nuts and raisins and chocolate buttons.
Range of loose teas and fresh coffee by Buxton Roastery.
Bath, body and cosmetic accessories including shaving kits, sanitary products including Mooncups, bamboo toothbrushes, dental floss, loofahs and lip balm.
Shampoo, conditioner, bodywash and handsoap is available on refill as well as a range of organic toiletries including deodrant.
Ten different household liquid cleaning products on refill including laundry liquid and washing up liquid.
Re-fill jars can be purchased in-store in various sizes.
Parking: 40 minute bay is outside the shop. Nearby parking can be found on the Market Place (limited on market days Tuesday and Saturday), Market Street, The Slopes and College Road. If you are unable to find a parking space, the Day Zero team are happy to hold your shopping until you are able to pull up outside and collect it.
Did You Enjoy This?
You might like our regular newsletter. We put all the best events, cultural highlights and offers from Buxton and the Peak District in your inbox every fortnight.
This information will only be used to send you this newsletter. It is stored in Mailchimp.