The Buxton Festival Fringe is back for 2022! It was back last year, of course, but like everything else, it was still in the shadow of the pandemic and not quite at full strength. This year we can enjoy the Fringe as it is truly meant to be; an explosion of drama, music, poetry, comedy, film, exhibitions, dance and magic across Buxton's unique range of venues. This year's programme is especially diverse and fun, taking place over two and a half weeks, 6th – 24th July, so the countdown has begun.
If you've never been to a Fringe show before, 2022 is the perfect year to jump aboard. There are around 170 events adding up to over 500 performances to choose from and some of them are free! If you need help with the abundance of choice, you can browse their website, which has a nifty 'Fringe Planner'. Alternatively, you can visit the Fringe desk, in the Pavilion Gardens conservatory next to Buxton Opera House and grab a printed programme, or download the free Buxton Fringe app. Be sure to keep up with any late changes here.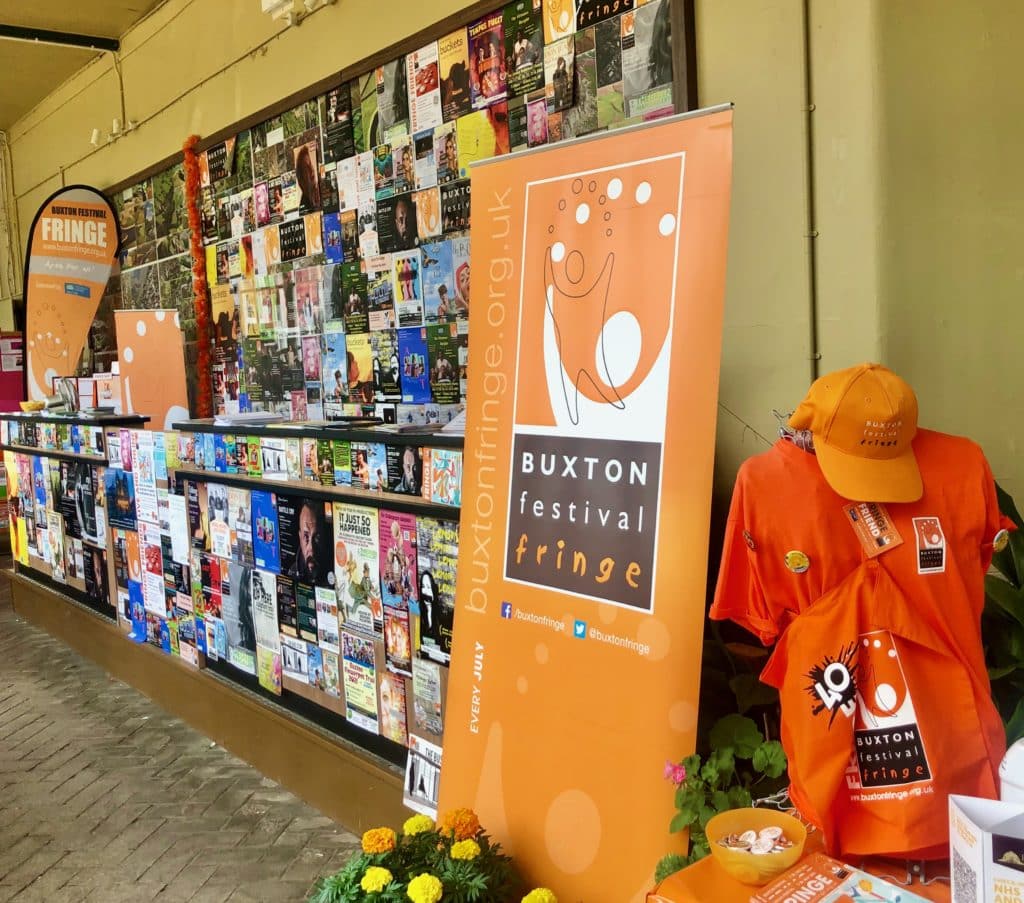 This year sees the welcome return all three of its managed venues at The Green Man Gallery, The Rotunda and Underground Venues (upstairs in the The Old Clubhouse and at the Arts Centre Studio). Other events also take place in Poole's Cavern and Buxton Crescent as well as the United Reformed Church, The Pump Room, the Pavilion Gardens and many more venues.
As you can imagine, Buxton Festival Fringe is based in Buxton but this year, there are events outside town: Highpeak Bookstore at Brierlow Bar, as well as neighbouring towns and villages New Mills, Eyam and Chapel-en-le-Frith.
If you're a visitor to Buxton, there's a wide range of hotels, B&Bs and apartments to use as a base for your Festival Fringe experience. Many of the performers utilise Buxton as a warm up for the Edinburgh Festival Fringe but Buxton has its own charms that should not be bypassed. If you're a resident, you may have noticed the town gets more lively and colourful for the best part of July. Ever been curious why? Perhaps it's time to investigate and give Netflix a break. It's possible to take the kids to a show, catch some live music, see an emerging comedian and perhaps experience something altogether more strange all within the space of just over a fortnight, along with other actual humans!
Each show has its own ticket sales arrangements clearly listed. See buxtonfringe.org.uk/tickets for general guidance. You can also support the Fringe by making a donation or become a Fringe Friend with 10% off full ticket prices. Or why not become a volunteer? See details here on their website.
Highlights of the arts festival include [email protected], an early evening tradition taking place before Buxton International Festival's Song at Six; enjoy free tasters of Fringe events from music to comedy and drama to spoken word.
It was great to see the Fringe Float back on Carnival Day and the hugely popular Fringe Sunday made a welcome return with hundreds of people filling the park for the festivities.
And don't forget to let the Fringe know what you think by filling in an audience survey form at venues or on the Fringe website!
Buxton Festival Fringe
T: 07719 528419 (Fringe Information desk during Fringe only) or Fringe Marketing Officer: 01298 79351. General enquiries: 07792 346 127.
Did You Enjoy This?
You might like our regular newsletter. We put all the best events, cultural highlights and offers from Buxton and the Peak District in your inbox every fortnight.
This information will only be used to send you this newsletter. It is stored in Mailchimp.