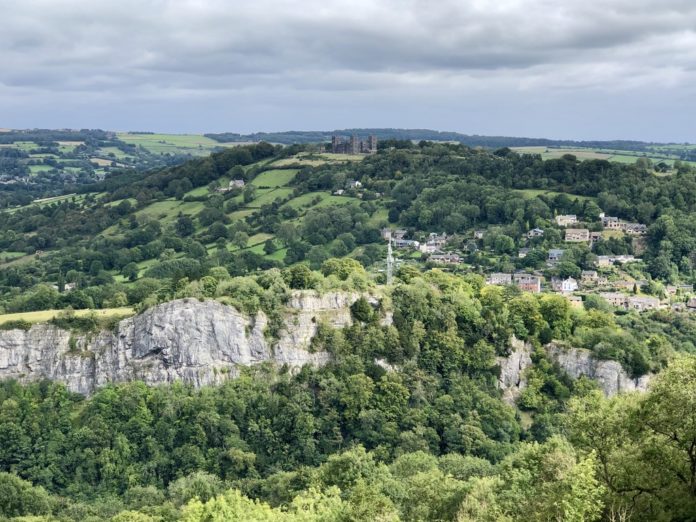 During the summer of 2020, the Explore Buxton team set off for a visit to the Heights of Abraham. With some time to kill on arrival, we decided to explore taking a detour to Matlock Bath Aquarium as well as enjoying a wander round this quaint Victorian spa town. So, our adventure continues as we head for Britain's first alpine style cable car, dating back 230 years…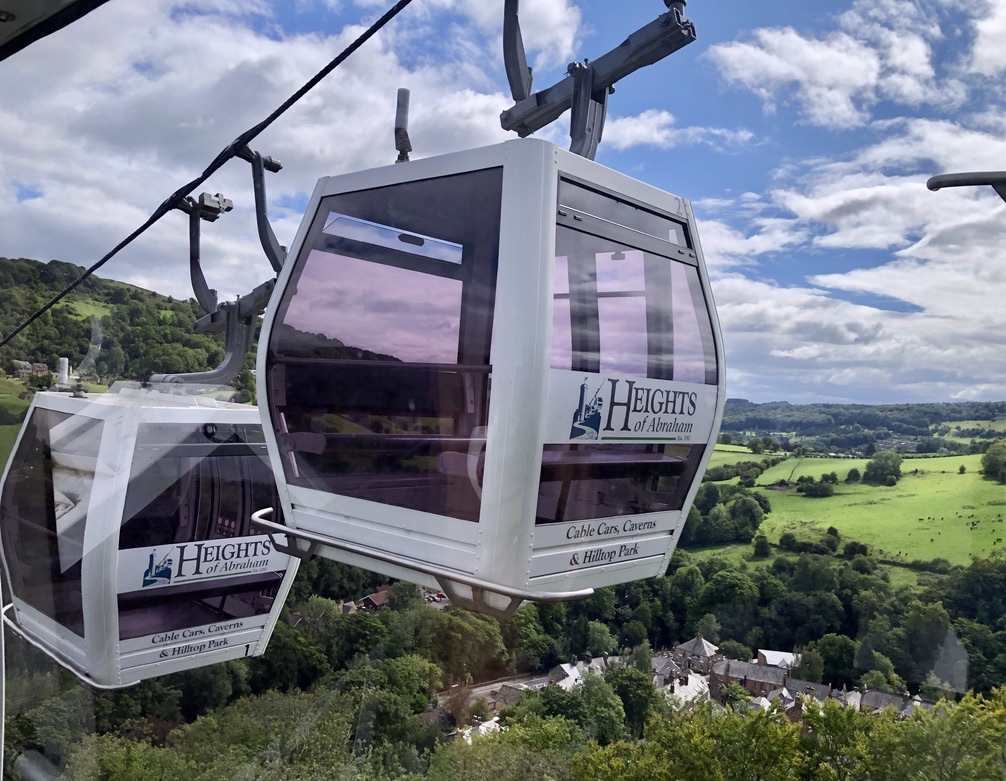 Arriving at the cable car station, the climb into the clouds looked to be a gentle one. We boarded a cable car almost right away; you must book in advance by the way as there's no walk-ins at the moment. We had a slight sense of anticipation as it took off and we were soon above the treetops and the views down into the town were lovely. High Tor, the imposing limestone crag which overlooks Matlock soon comes into view as does the superb vista of the Peak District, serving as a reminder of how lucky we are to live in such a beautiful part of the world.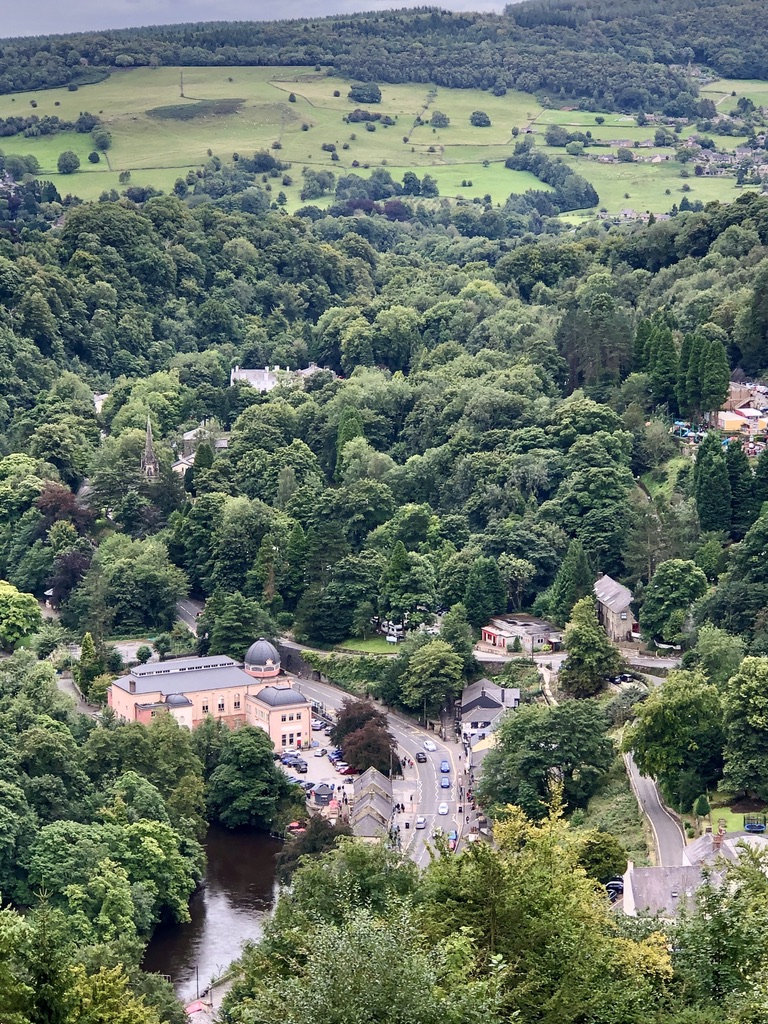 The cable car stops half way which gives you chance to take photos, which admittedly was a little nerve wracking as it was slightly windy but great fun! The ride was only about five minutes long before we reached the summit. After perusing the visitor guide it was clear there was a lot to see here and we probably weren't going to cover it all.
Immediately we noticed the social distancing and covid safety measures, there was lots of friendly signage and it was really easy to navigate visually – massively important. There was a couple of big hand washing stations, plenty of sanitiser stations too and floor markers.
We booked for 1pm but there's a lot to see and to be honest a full day would be better so you can enjoy lunch and make you sure you don't miss anything.
So we headed off to cover as much as we could; first stop – The Great Masson Cavern guided tour. There are two show caves here, we only had time for one, the other being The Rutland Cavern & Nestus Mine. The show caves give an interesting insight into the 17th century lead mining industry in Derbyshire. At the end of the tour, we climbed several steps and exited the cavern near Tinker's Shaft, one of the highest points on the estate – rewarding us with spectacular views across the the Derwent Valley. The view here of High Tor is now joined by the 19th century Riber Castle in the distance; a mighty mock-Gothic folly, built by 19th century knitwear baron John Smedley with a somewhat chequered history.
We were parched at this point so made a beeline for The Terrace Café (below The Vista Bar and Restaurant which offers slightly more formal dining). On route we spotted a traditional Punch and Judy show – a fixture at Heights for fifteen years, it's great to see so many children continue to enjoy this Victorian tradition!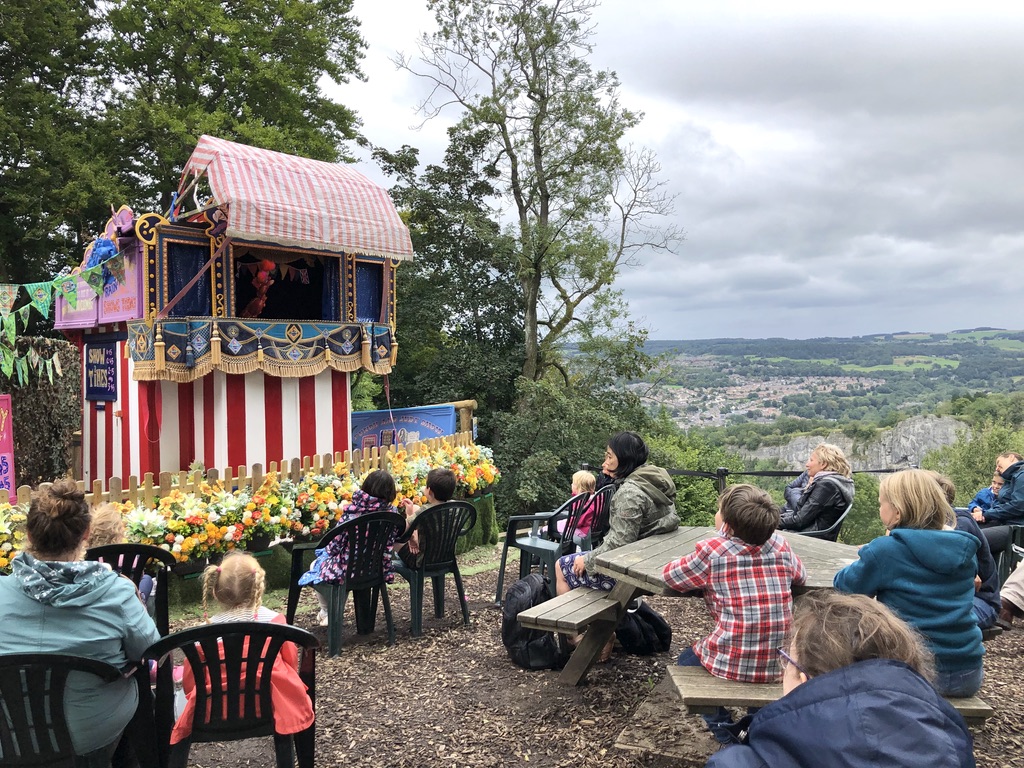 The café offers another opportunity to enjoy the views and with covid-secure measures in place, tables and the till area were separated by clear perspex. It felt very safe and staff were highly organised in this respect. After fuelling up on a huge slice of (delicious) gluten free chocolate cake and a cup of Earl Grey Tea, we continued to explore.
Sadly, we were too grown up for the Woodland Play Adventure area 😀, clearly the children playing here looked to be having a great time…
Of course no trip to a visitor attraction is complete without perusing the souvenirs available and The Treetops Gift Shop doesn't disappoint with lots of Derbyshire and Peak District inspired rocks, minerals, crystals, fossils, jewellery and more.
Last stop – The Victoria Prospect Tower. Originally built in 1844, this restored look-out tower has a winding spiral staircase and a 360 degree view. There is plenty more to see but we'd run out of time at this point. We'd quite like to enjoy more of the outdoor picnic areas and walking trails next time. New for 2020 is the Audio Tour, which gives detail on the history of the site – we might try this next time too; there is WiFi across the estate.
Having recently been on a cable car in Europe, albeit a much bigger one, the experience was certainly thrilling. The Covid-secure measures in place were subtle but not intrusive and staff were really helpful. It was reassuring to visit somewhere and enjoy the experience whilst feeling safe in such uncertain times, we almost forgot about the pandemic for a while during our visit.
We walked back into the town along the river which is pleasant stroll and eventually you arrive at the rear of the Peak District Lead Mining Museum; we didn't have time to visit, that's another trip.
Click here for detailed information about the changes that visitors can expect at The Heights of Abraham as well as answers to frequently asked questions about the Covid-19 safety measures introduced.
Dogs are welcome on the cable car and around the grounds as long as they are kept on a lead. If you are planning on eating in their café, your four legged friend can join you for lunch on the outdoor cafe terrace.
Currently tickets can be booked to arrive for either 10am or 1pm arrival and tickets must be booked in advance online. The ticket price includes everything up at the summit including the two guided cavern tours.
Entry / Tickets: Adult £19, Child £13, Senior Citizen £16, Family ticket (2 adults and 2 children) £60, Senior family (2 seniors and 2 children) £55, Under 5s free.
The Heights of Abraham, Matlock Bath, Derbyshire, DE4 3NT
Did You Enjoy This?
You might like our regular newsletter. We put all the best events, cultural highlights and offers from Buxton and the Peak District in your inbox every fortnight.
This information will only be used to send you this newsletter. It is stored in Mailchimp.