To acknowledge the heroic effort of teachers, parents, carers and support staff everywhere to keep children educated and safe throughout the coronavirus pandemic, Assistant in Charge at Buxton Museum and Art Gallery Ben Jones dips in to the collections:
When it comes to Buxton schools and colleges, local museum artefacts are a bit thin on the ground. The existence of a few bastions of education can be seen in the collection of local photographer J.R. Board and his son-in-law J.D. Meddins who captured all aspects of life from the 1920s to the 1960s with their cameras. Backed up by a few items from the social history section, we can build up a slightly hazy picture of how, when and where Buxtonians were enlightened.
One of our oldest school photographs is from Fairfield Endowed School in 1910, showing three rows of smartly attired young gentlemen, some of whom are feasibly someone's ancestor. They don't look particularly happy but over a hundred years ago, smiling for photographs had yet to become a thing. Teachers would have been stricter too, perhaps utilising physical punishment or rituals of humiliation to reinforce the behaviour of their pupils so there probably wasn't much to smile about anyway. It is hard to believe now that corporeal punishment was not banned in the UK until the 1980s, following a ruling by the European Court of Human Rights.
These handwritten school "copybooks" were kindly donated to the museum in 2016 by the granddaughter of William Bagshaw, who had a long walk to school in the 1870s. William would journey to school at Fern Cottage in Fairfield from his home at Beet Farm in Burbage, in the family since the 1600s. In those times, Buxton was little more than a huddle of buildings in the wilderness of Derbyshire and we can imagine the schoolchildren trekking up hill and down dale to learn their three Rs. Looking inside the books, the standard of the work is astonishing, quickly quashing any notion that education in late 19th century Buxton was in any way primitive.
Here's a gloomy scene from the museum's postcard collection revealing the aftermath of a fire at Hardwick Square school in 1929. Now renamed Buxton Infants School, the façade of the building is still recognisable. There are no details of the accident to accompany the image. Nowadays, postcards are usually cheerful depictions, sent to loved ones whilst on holiday and it seems peculiar to have one showing a fire-damaged school but back then, few people owned cameras and they would have postcards printed as a memento of any notable occasion, even a tragedy.
A year later, Board visited Buxton College for Boys to snapshot what a day at school looked like in 1930. Buxton was a little late to the party on co-education. The site gradually became Buxton Community School in the 1990s, expanding on the original construction shown in these photographs and uniting girls and boys. Board seemed particularly keen to immortalise the headmaster Mr Bolton King, who looks like an amiable chap. We can only wonder if there's a line of naughty boys outside his office, waiting to be admonished with a sterner demeanour.
It took Board another three years to get around to visiting Cavendish Girl's School. It resonates now that the boy's version was named a college whereas the girls had to settle for being in a mere school. Further evidence of inequality is clear from the classroom photographs which reveal the young ladies being primed for a life of domestic duty. This institution has literally vanished into the past, demolished to make way for a housing estate in the 1990s after being replaced by the Community School. Given the grandeur of the building and its history, it seems regrettable. It was built in the 19th century as Wyehead Asylum, "an establishment for the care and treatment of the insane of the higher and middle classes." As an A Level student, I visited the school to study English, and I can recall the bars on the windows.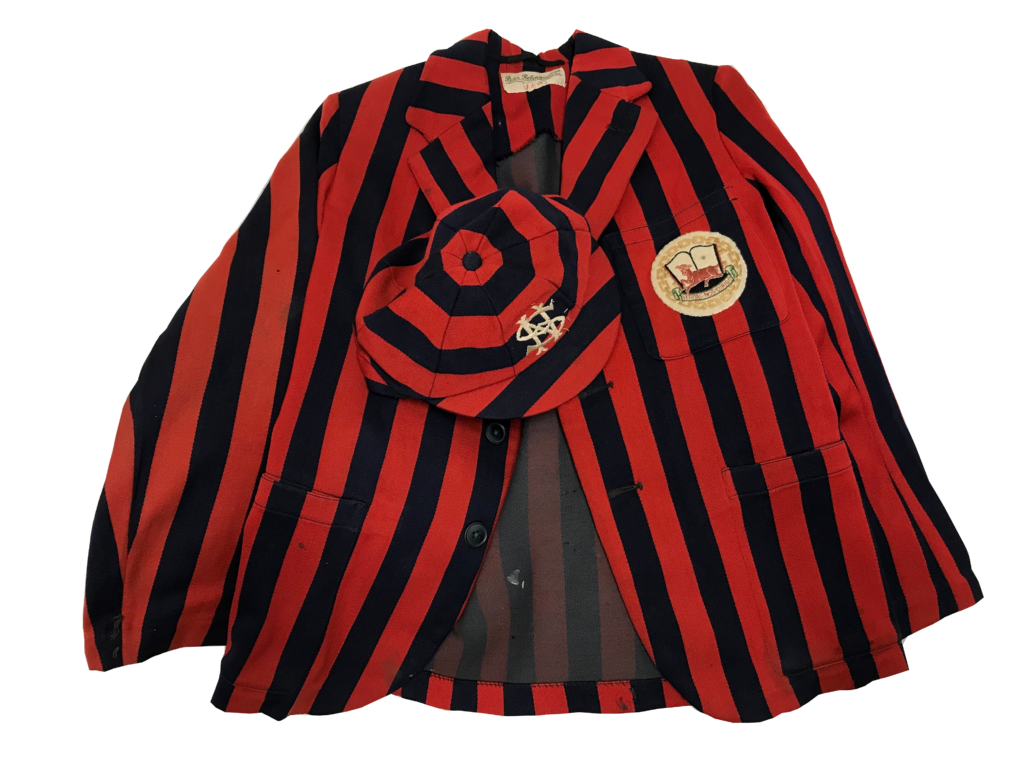 Meddins followed suit in 1965 by documenting Normanton School. My knowledge of this place is very superficial; when I was young, I studied at the comprehensive and Normanton was one of many small private schools that were a mystery to us. The museum cares for a uniform kindly donated by Mrs Harrison in 2001, worn in 1949-50. If anyone out there can elaborate on Normanton or share stories from any other school days in Buxton, we would love to hear from you. Leave a comment at the bottom or on our Facebook page.
It's only a leaflet but ex-students may be amused by the inclusion of High Peak College in the museum collection. On the windswept summit of Harpur Hill, the edifice of further education offered practical courses on everything from welding to hair dressing for three decades. It was perhaps most famous for its catering course, replaced at the dawn of the new millennium by the University of Derby's version at Buxton's Devonshire Dome. I remember it as a very spirited place; a bit like the Wild West with sheep. Currently, there's only one ruined building left to testify to its existence.
That concludes Buxton Museum and Art Gallery's somewhat brief history of local education. If you remember John Duncan's School on Corbar Road, you may be interested to learn more of its history.
We will leave you with this chalk slate which children were equipped with in the Victorian era. If your little ones crave the latest gizmo, perhaps it will provide them with some perspective.
Buxton Museum and Art Gallery, Terrace Road, Buxton, SK17 6DA
T: 01629 533540
derbyshire.gov.uk/leisure/buxton-museum/buxton-museum-and-art-gallery
Did You Enjoy This?
You might like our regular newsletter. We put all the best events, cultural highlights and offers from Buxton and the Peak District in your inbox every fortnight.
This information will only be used to send you this newsletter. It is stored in Mailchimp.