We may not be able to go very far but that doesn't mean you can't celebrate Valentine's Day in lockdown, because let's face it, it's refreshing to actually be celebrating something after the year we've all had. And even better it's on a Sunday this year so you make a whole day of it.
The better news about the so-called most romantic day of the year, there's no pressure to book early or pile into restaurants crammed with gooey-eyed couples. This year, it's all about hunkering down and treating yourself to something a bit different, whether it's lighting the candles and awarding yourself a takeaway or using it as an excuse for a girls-night Zoom.
Here's our pick of some the best things to check out local to Buxton:
1. La Capri's at Home – Valentine's Day Special set menu
La Capri at Home has built up quite following during lockdown periods, with the restaurant bringing you fine dining to enjoy at home. The Mediterranean menu features tapas, stone baked freshly made pizza, pasta and paella dishes.
For Valentine's Day, they're also offering a special set menu, with two or three courses to choose from. Or you want to stick with their usual offering, their usual menu is also available. Go to their Facebook page to see the menus and place your order: facebook.com/La-Capris
2. Enjoy a few of your favourite tipples from Beer District
Buxton's only independent off-license have a superb range of lovely craft beers and artisan spirits, with many from producers in the Peak District and local region – so you could enjoy your favourite tipple on Valentine's Day! You can order online – their website has a superb range of real ale, craft beer, continental beer, gin, rum, whisky and more.
Orders can be collected from the Buxton store and local delivery is also available for Buxton and surrounding areas: Orders under £40.00 will be £2.95 delivery charge, orders over £40 will be delivered for free.
3. Order in your favourite dish from Simply Thai
Treat you and your Valentine to your favourite Thai dish from one of Buxton's favourite restaurants. You can order online for both collection and delivery. All the dishes from their main restaurant menu can be found online. Singha Beer is also available for delivery when ordering food.
simplythaibuxton.co.uk/online-ordering
4. Buy a gift for the home or kitchen at Hargreaves of Buxton
Treat yourself or a loved one to a Valentine's pressie! Hargreaves are renowned for their kitchen and homewares and they're currently offering Click and Collect and you can order via their website. We love the his and hers / mr and mrs mugs. There's a great selection of baking accessories on their website too, so for any home bakers who want to make their loved one something special on Sunday.
5. Take a romantic stroll through the The Crescent with a hot chocolate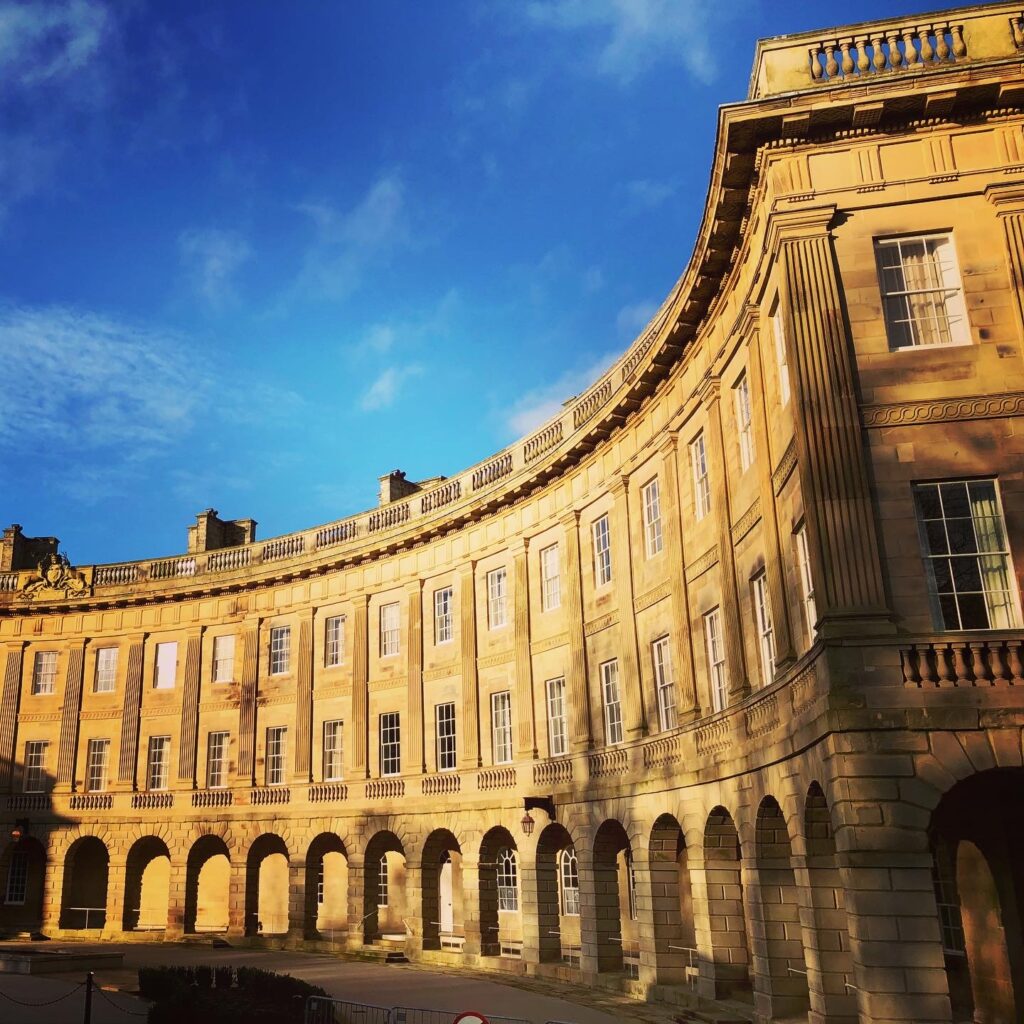 Buxton's Crescent has been looking glorious in the recent snow falls – so why not take a romantic stroll under the arches of one of our town's most iconic buildings, with a warming hot chocolate or Cappuccino from Charlotte's Chocolates; their serving hatch is open Wednesday – Sunday, 11am – 3pm.
6. Get creative and join the local community in creating 'Winter Woodland Windows' and glowing lanterns
Why not set aside the afternoon to get creative on Valentine's Day? Having originally planned a weekend of 'lantern' walks through Buxton's woodlands, (which couldn't go ahead due to current covid restrictions), local artists group Stone and Water (Gordon Maclellan and Sarah Males) decided to it would be great if residents could creative something for their windows to cheer up passers by. They're asking residents to create glowing lanterns and winter woodland window designs to display in the window of their homes. The event is happening across two weekends, 14th & 15th and 20th & 21st February. To get people started, Gordon and Sarah have 100 sets of kits to help make both bottle lanterns and woodland windows and these are available free to people in Buxton. Read our special feature to find out more and how to get involved:
explorebuxton.co.uk/call-for-buxton-residents-to-create-woodland-windows-to-cheer-up-passers-by
7. Handmade Valentine's chocolates from Charlotte's Chocolates
Give up the diet on Sunday and treat yourself to some scrumptious handmade chocolate, made here in Buxton at Charlotte's Chocolates. They're currently open for takeaway hot drinks and snacks, and best of all – their splendid chocolate we locals have come to love so much. They have a wide variety of Valentine's themed chocolate – available from the takeaway hatch, or, if you want something specific call the shop on 01298 214440 during opening hours, or email them at [email protected] The takeaway hatch is open Wednesday – Sunday, 11am – 3pm.
8. The Chakra Lounge – Valentine's Day Special Home Delivery
This Valentine's Day, you can enjoy your favourite Indian/Western dishes from The Chakra Lounge. As many of us know, their range of vegetarian, vegan and gluten free food is varied, delicious and there's plenty of it too. Collect in store or get it delivered via Just Eat. Valentine's Day special: The Royal Maharaja and Maharani Vegan Burgers with the flavourful pink rose drink 'Gulabo Rani' (The Queen of the Roses)!

just-eat.co.uk/restaurants-the-chakra-lounge-buxton/menu
9. Grab a takeaway Buxton Roastery Coffee and cake from Pavilion Gardens and enjoy a cosy winter stroll
Pavilion Gardens will once again be open for takeaway from Saturday 13th February so you and a loved one could cosy up and enjoy a hot drink, slice of cake or pastry and feed the birds. The gardens look lovely in wintery landscape at the moment. Serving the lovely Buxton Roastery Coffee, the takeaway hatch will be open 10am – 4pm every day and throughout half term. You can find the latest updates on their website
parkwoodoutdoors.co.uk/centre/the-pavilion-gardens
Did You Enjoy This?
You might like our regular newsletter. We put all the best events, cultural highlights and offers from Buxton and the Peak District in your inbox every fortnight.
This information will only be used to send you this newsletter. It is stored in Mailchimp.