Printexpress Buxton's motto – "Fast, Reliable, Friendly" – has been their guiding principle since the business first began on Market Street in 1982. Like many businesses, Printexpress has experienced challenges due to the lockdown but they re-opened on 6th May with a renewed enthusiasm.
"We recognise that these have been tough times for everyone in the community," said co-owner Cathy Grange, "We want people to know that we are still here to provide a friendly and helpful local service to clients large and small alike. We're also proud of the fact that we have been able to keep the staff on full pay during their furlough periods. This lockdown was not their fault and we felt it important to keep them topped up – after all, we cannot function without them."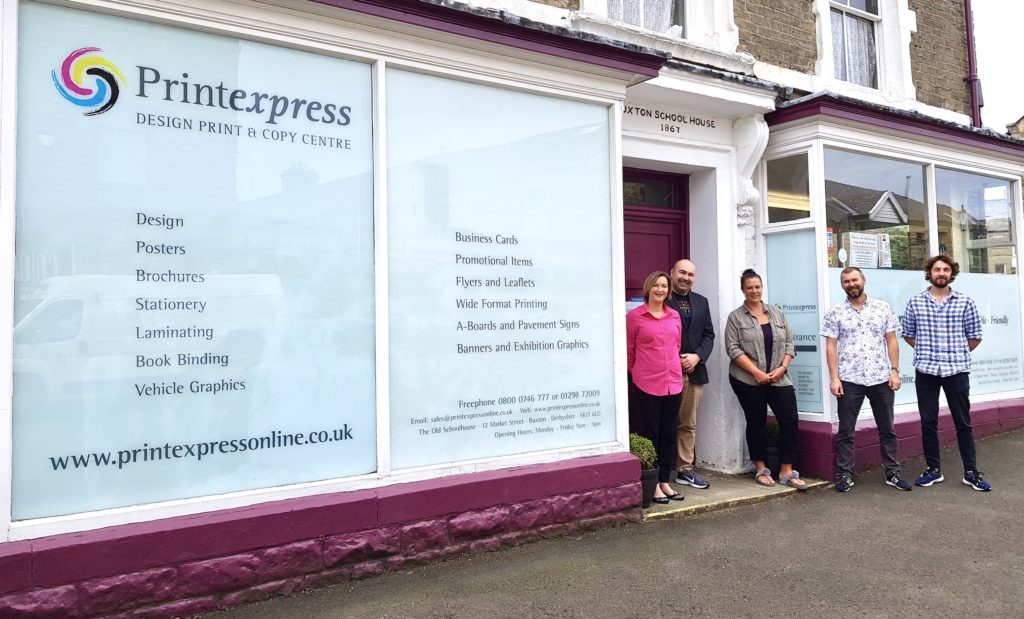 A Fresh Start
Many of Printexpress' customers have used the time during lockdown to do renovations and have needed to reorganise their workspace in order to reopen to the public safely. The team have been able to provide these local businesses with new products such as social distancing floor graphics and signage. The designers have also been busy redesigning menus for restaurants and cafes in the local area to prepare for re-opening.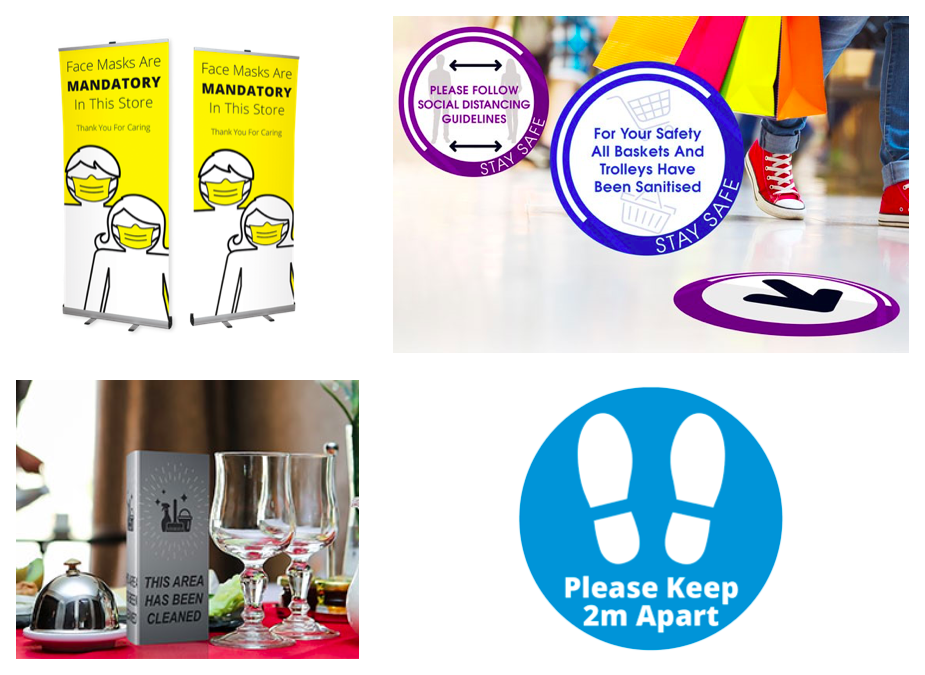 In recent years, there has been a growing demand for Printexpress' services, but of course as the virus and its national threat developed, everything had to be put on pause. Cathy reflects, "With today's fast-paced culture we need to be ready to respond with short lead times. That is something we pride ourselves upon, along with great customer service and value for money. When we returned after lockdown it was clear that these principles were going to be more important than ever."
Cathy says "We want to make it easier for people in the area to find out more about some of the services we offer. For example, everyone knows that they can get copies or business cards from us, but they may not realise that we can, for instance, produce a wide range of branded promotional materials – from pens and piggybanks to re-useable shopping bags and umbrellas! We are working on expanding our social media platforms and a new website is in the works".
Antibacterial laminates for pubs, cafés and more…
The current pandemic has meant that many businesses have had to completely revaluate how they operate on a day to day basis and the recent development of antibacterial laminates is rather timely to say the least. Currently available in business cards, flyers, leaflets, table talkers and tent cards to put on tables and counters, the technology involves impregnating the laminate with silver ion particles which allows it to eliminate 99% of bacteria cells.
It won't wear out or lose effectiveness as long as the item has its laminate surface. It can be easily wiped down and still should be regularly, but this won't affect the quality of the print or laminate. If you run a local hospitality business, get in touch with Print Express about your requirements, they are currently the only local print company to offer this product.
The Road to Long Term Success
After purchasing the business in 2015, Mike Grange was keen to put the "Fast, Reliable, Friendly" message front and centre. Having begun his career in print working as head of production for one of the largest printing firms in North London, he had become disillusioned with the impersonal attitudes of the big city. He recalls, "I wanted to run a business that was agile and dependable, but also easy to deal with and pleasant. London can be a bit cutthroat at times, I wanted to get away from that."
After re-locating to his wife Cathy's hometown of Buxton, he visited Printexpress with her as a customer, where they learned that the business was for sale due to retirement of founder David Cadwallader. Soon after that chance meeting they took over the keys and got to work. Gradually, they have refreshed the brand and updated the equipment, whilst bringing in another graphic designer, Jordan Orridge, to increase productivity. With a solid foundation of two established staff in Julie Dyson and Ryan Sherwood, the team was complete. Cathy has entered a new role as Sales and Marketing Director to help develop the business further.
Mike has since focused on diversifying services to include such things as in-house paperback bookbinding and wide format printing. The range of products now available are enough to satisfy any promoter's dream, from PVC vinyl banners, exhibition display stands, roller banners and outdoor flags to the more everyday essentials such as business cards, leaflets and sticky labels.
Follow Printexpress on Twitter where you keep up to date with their latest news, products and offers: @PrintBuxton
Printexpress, 12 Market Street, Buxton, SK17 6LD
T: 01298 72009 / Freephone 08000 746 777

Did You Enjoy This?
You might like our regular newsletter. We put all the best events, cultural highlights and offers from Buxton and the Peak District in your inbox every fortnight.
This information will only be used to send you this newsletter. It is stored in Mailchimp.