The news earlier this month that hotels could finally reopen came as a huge relief for the hospitality sector. After almost four months of closure, independent hoteliers are now beginning to remerge amidst the pandemic that has changed our everyday lives and affected every sector across the globe.
While many European destinations have given British holidaymakers the green light to return, concerns about the further spread of coronavirus and accompanying travel restrictions have led many to choose a 'staycation' this summer for a family holiday or a weekend away.
Hoteliers have taken on the challenge head on, adapting to this "new-normal" and The Queens Head Hotel in Buxton is no exception.
Historic hotel has seen centuries of change
The Queens Head Hotel is no stranger when it comes to change. The site dates back centuries which means you can bask in the heritage of England's highest market town and contemplate exploring the Peak District on its doorstep. The hotel's origins lie in the coaching inn that first began trading here in the 1600s when Buxton was a very different place.
The town was more of a fledgling health resort than a settlement and Victorians flocked to Buxton to "take the waters", thought to be a cure for a variety of ills and conditions and the town boomed through the 19th century. Quality coach houses like The Queen's Head were set up to shelter the crowds of well-heeled visitors.
Fast forward a few hundred years and the spa seekers and bath chairs have long gone but The Queen's Head still offers quality accommodation to people drawn to this unique part of the world. Signs of the hotel's antiquity can still be seen in its timber-framed upper floor.
Run by the Howarth family for the last 50 years, the hotel spans three generations. The current generation has not rested on the achievements of their ancestors; 2019 saw guest rooms redeveloped whilst maintaining the character of its coach house days. Guests can be reassured that they will be accommodated in their own 'social bubble' for peace of mind and breakfast will take place at staggered times with limited numbers and all tables are separated by a perspex screen.
"We're really pleased to be welcoming guests again who want to make the most of the remainder of the summer by taking much-needed staycations and being tourists in their own country", says Ian.
You needn't worry about getting a good night's sleep as the accommodation is separated from the pub and set back from the high street, creating a sanctuary in the heart of the liveliest and most authentic part of town.
"Of course, the Queens Head Hotel experience will be a little different now. As well as offering our home away from home comfort, in line with Government guidance, we're ensuring all our guests' safety and wellbeing with enhanced cleaning and sanitising of all facilities in-between guests for example".
"Our bar area in the public house has also been modified with perspex screens, hand-washing stations and pub customers will be asked to sign in. We're doing everything we can so that our guests and customers can feel safe but still enjoy a relaxing stay with us – it can be done. The feedback from guests so far has been hugely positive".
When it comes to food and drink and sightseeing, you'll be spoiled for choice in Buxton; the hotel is quite literally just a stones throw away from many of Buxton's must-see attractions and must-try eateries. And don't forget to check out the great independent shops in Higher Buxton too.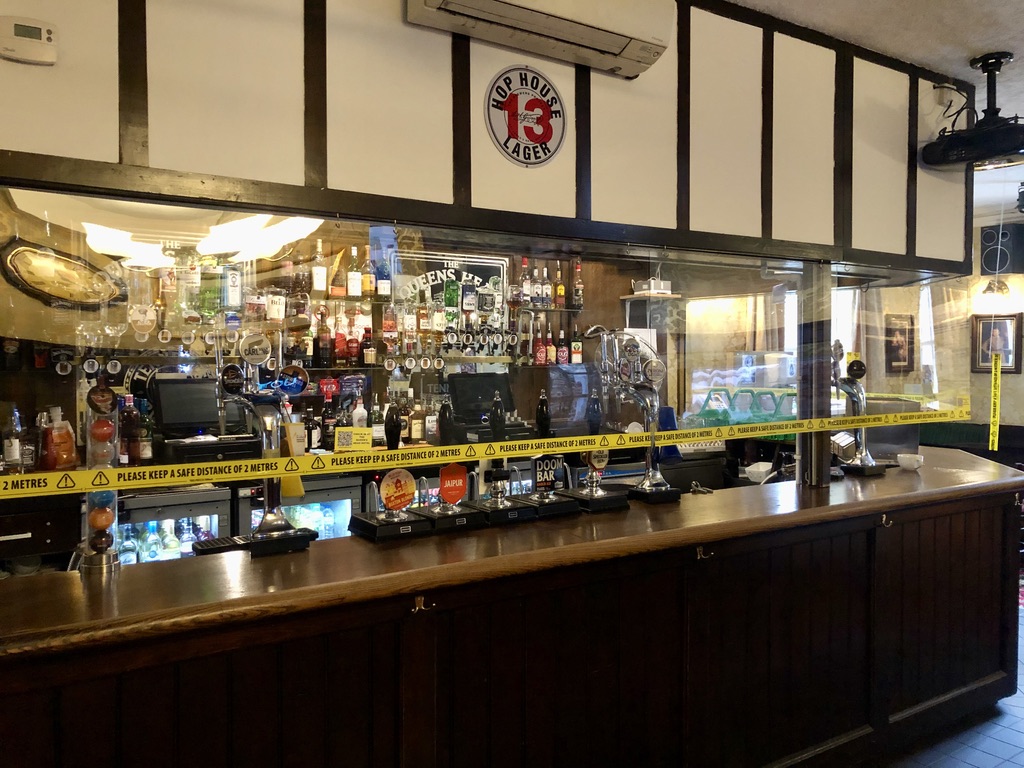 "We've had to make changes to the way we do things in line with government guidance but essentially not a huge amount has changed and actually in some ways, it's a more seamless experience for the guest. For example, the contactless check-in system we now have. Guests can now go straight to their room and settle in, there's no waiting around, so if they've been travelling a long way they can freshen up or take a welcome rest. Equally they can just head out and start exploring the area. I think this is going to work out better in some ways", says Ian Howarth, proprietor and owner.
"The experience is still just as personalised when guests stay in our hotel and we are here if they need anything at all but there is far less face to face contact", says Ian.
Why book direct?
Booking directly means you'll be guaranteed the best possible price available. "We recognise that, particularly in the current circumstances, plans can change quickly, so we're flexible in terms of making changes to bookings and our team can easily can make any amendments to your booking if needs be, rather than guests needing to go through a third party", said Ian. For all enquiries about availability and booking, email or call the hotel and they can advise accordingly.
Queens Head Hotel, High Street, Buxton
T: 01298 23841
Did You Enjoy This?
You might like our regular newsletter. We put all the best events, cultural highlights and offers from Buxton and the Peak District in your inbox every fortnight.
This information will only be used to send you this newsletter. It is stored in Mailchimp.