Here's our round up of 14 best places for health & fitness in Buxton! There's loads of different activities, some lesser known that others, so, if you're looking to get fit and detox whether you're local or on a break here and looking for something to keep active and / or relax during your time in Buxton – here's our pick of the best things to do:
[box style='success']1. ISHGA FULL BODY MESSAGE & SPA AT THE DOME[/box]
A great way to start the new year detox with a new you is a session at Spa at Dome. The all over Ishga body massage combines seaweed, lemongrass, juniper and rose geranium – and it smells divine. All treatments booked means guests have full use of the spa facilities for 1 hour before their treatment (excluding express treatments) so you can enjoy the essence filled sauna, traditional steam room, an aroma room, hydrotherapy pool, monsoon shower, a beautiful relaxation room and more. The ideal tonic to detox the skin and de-stress.
www.devonshiredome.co.uk/devonshire-spa
[box style='success']2. JOIN BUXTON ATHLETICS RUNNING CLUB[/box]
With a diverse member base of around 80, the club meets regularly for runs around Buxton and the Peak District. They attend lots of running events during the year such as Buxton and Macclesfield Half Marathon's, Longnor Races and Buxton Carnival Road Race as well as being a really social bunch too having regular nights out such as going to comedy clubs and curry houses and drinks locally. If your new to the area and/or fancy getting more active this could be perfect for you. All ages and fitness levels are more than welcome.
[box style='success']3. CYCLING – HIRE A BIKE FROM BUXTON TRAIN STATION FOR JUST £3.80 A DAY[/box]
Did you know that you can hire a bike from Buxton Railway Station as part of the 'Bike & Go' scheme? Even better, it costs just £3.80 for every 24 hour period and you can hire your bike for up to 72 hours. To get started you need to register online and pay an annual subscription fee of £10. Brilliant eh?  The scheme is aimed at using the trains in conjunction with the bikes – so if you came to Buxton for the day by train, you could then hire a bike to explore the area and the surrounding Peak District.  But there's nothing to stop you simply hiring a bike how ever you travelled to Buxton or if you're a resident here and making use of it over the weekend – Buxton and the Peak District has lots of great cycle trails with varying terrains and difficulty.
[box style='success']4. BUXTON SWIMMING & FITNESS CENTRE[/box]
There's a wide range of timetabled activities in both the pools and the gym / fitness centre and activities include workout classes, aqua jogging, 50+ swimming and parent and baby sessions. You can of course just go swimming there too. Prices are pretty reasonable too.
www.placesforpeopleleisure.org/centres/buxton-swimming-and-fitness-centre
[box style='success']5. GO APE BUXTON[/box]
The zip wires and Tarzan swings offer the chance to spend a few hours in the scenic woodlands of Buxton Country Park swinging through the trees with rope ladders, obstacles and crossings, providing ample challenges for those with a love for the outdoors.  All at a knee knocking 1200 feet, Buxton is the highest Go Ape course in England and the woodlands are made up of beech, elm, and sycamore with willow, birch and hawthorn. The site is in walking distance from Buxton town centre and you'll also find the two-million-year-old natural limestone cave Poole's Cavern, in Buxton Country Park.
www.goape.co.uk/days-out/buxton
[box style='success']6. LOVE STRICTLY COME DANCING? GO BALLROOM DANCING[/box]
If you're a fan of Strictly Come Dancing – then you can do it for real with Wallflower Dance who hold regular classes for Salsa, ballroom and latin dancing. Weekly classes are held at Buxton United Reformed Church (Tuesdays) and South 16 (Thursdays) and you can learn dances like the Quickstep, Cha Cha Cha, Waltz, Tango, Charleston, Salsa and more. The tutors are highly experienced and whether you're a beginner or have danced before, all levels and ages are most welcome.
www.facebook.com/WallflowerDance
[box style='success']7. WALK THE 'RING OF TREES' AROUND BUXTON[/box]
Did you know that there's several (protected) woods around Buxton which make up the Ring of Trees Walk? Sherbrook Wood is a lovely spot near Harpur Hill with a small stream and bridge. Spectacular views across the countryside are on offer at both Shay Wood and Grin Low Wood (home to Solomon's Temple) and there's the beautiful carpet of Blue Bell flowers to be seen in Spring at Corbar Woods with the treat of a breathtaking view of Buxton at the top of the woods at Corbar Cross. Perfect for an both an easy stroll or more adventuress walkers.  There's a map online you can follow with points of interest for flora and fauna – ideal for the family and particularly kids to learn about their local environment.
www.buxtoncivicassociation.org.uk/estate-and-map
[box style='success']8. LEARN TO PLAY GOLF AT CAVENDISH GOLF CLUB[/box]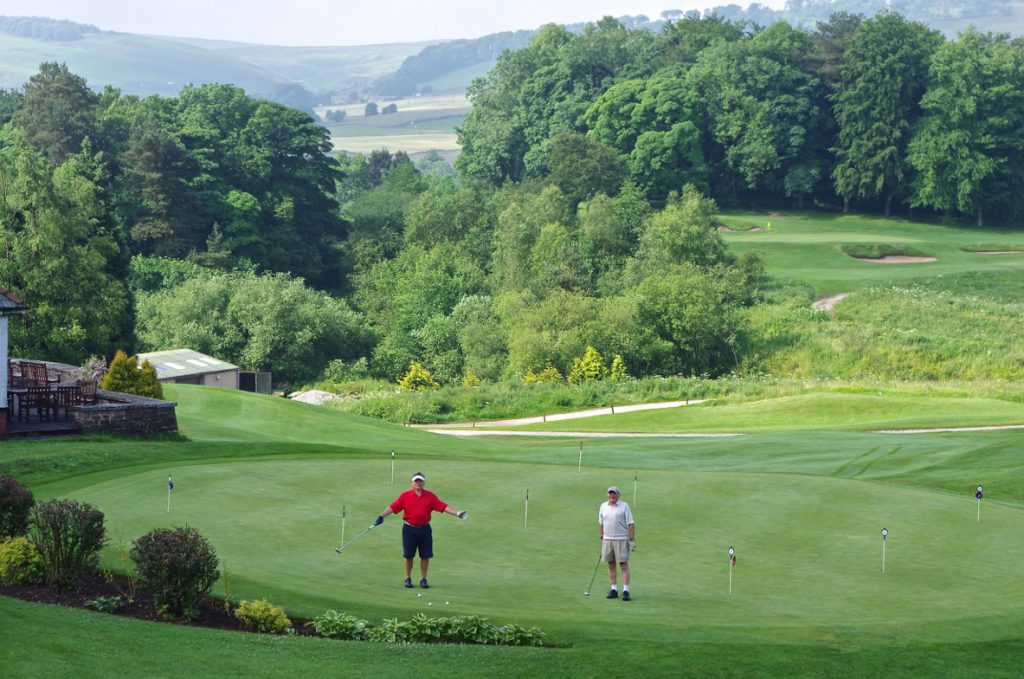 Ideal for the family, couples or a group of friends – this MacKenzie designed golf club is certainly considered to be one of th ebest in the country and new members are always welcome and if you can always try a taster with a day at the club if you're thinking of giving golf a try. Beginners very welcome – they'll show you everything you need to know.
[box style='success']9. GET FIT WITH 90s DANCE ANTHEMS & GLOW STICKS AT CLUBBERCISE[/box]
Easy-to-follow dance fitness routines to club anthems from 90's to today with glow sticks & disco lights! Not just duff duff…come sing along and more to the point get fit whilst having fun. Angela also runs the local Zumba classes if you prefer the sound of that. Clubbercise is ideal if you're either going alone or with group, it really suits everyone and there's different class times too.
www.clubbercise.com/instructors/angela-s-accidental-fitness
[box style='success']10. LEARN YOGA[/box]
Peak Yoga Centre offer a full range of classes to suit all levels; yoga is said be good for both the mind and body and great if you want to ease yourself into fitness if you're out of shape. Sue and Darel teach Iyengar Yoga, a form of yoga named after Mr BKS Iyengar who has been teaching and demonstrating throughout the world for over seventy years. They also offer residential yoga holidays in this country and abroad, giving you the chance to take your practice to a deeper level, whilst being able to relax and unwind in beautiful locations.
[box style='success']11. JOIN BUXTON RAMBLING CLUB[/box]
If you enjoy walking but want to discover and see more of Buxton and the Peak District's beautiful countryside, Buxton Rambling Club offers a a great way to get fit. They suggest you go along to one or two walks to try things out before joining up. Many of the walks take place in the Peak District but some further afield and well behaved dogs are welcome on walks. Most walks take place on Sundays and there's already a packed programme planned for 2017 – check their website for more details.
[box style='success']12. LEARN TO CANOE WITH PEAK PADDLERS IN SEE SOME OF BUXTON'S MOST SCENIC BEAUTY SPOTS[/box]
Formed in 2008, Peak Paddlers welcomes people of all ages and all abilities, so if you're an absolute newbie – these guys will show you everything you need to know. Their outdoor base is the stunning Errwood reservoir in the Peak District Goyt Valley, just a 10 minute drive from Buxton and the club can also often be found paddling along the many lovely canals in the area. If you don't have your own kit don't worry as they can provide everything you need.
[box style='success']13. BUXTON MOUNAINEERING CLUB[/box]
Whether you're new to the area, looking to move from indoor walls to the great outdoors or an experienced climber who simply wants to meet like minded people, the club welcomes all levels of climbers – they meet up every Tuesday evening at The Cheshire Cheese, so you pop along if you want more details. Originally begun in 1978 by a small group of local friends, the club has thrived over the years and is always on the lookout for new members.
[box style='success']14. ANGELA'S ACCIDENTAL FITNESS ZUMBA CLASS[/box]
Angela says 'Come and get fit without realising it at the world's best fitness party! Ditch the workout, join the party! Great tunes, easy moves, what's not to love!?' AIt does exactly what it says on the tin and the class do regular social events too.
www.facebook.com/accidentalfitnessangelaszumba
Did You Enjoy This?
You might like our regular newsletter. We put all the best events, cultural highlights and offers from Buxton and the Peak District in your inbox every fortnight.
This information will only be used to send you this newsletter. It is stored in Mailchimp.