Christmas in the Peak District is always beautiful and the landscape always looks stunning in winter. As the frost settles on the fields and snowfall dusts our hills and crags, Christmas brings us joy as pretty villages and towns decorate their streets. The smell of open fires in cosy pubs, streets lined with sparkly Christmas trees, pantomime fun, grand stately homes, scenic walks, to name but a few things we love about the festive season here…
Here's our pick of 15 things to do at Christmas in the Peak District…
1. Christmas Carol Concerts at Devil's Arse
Taking place inside one of the Peak District's most favourite showcaves, experience a carol concert like no other! On arrival you'll be greeted with mulled wine and mince pies. The brass bands, aided by our compere Barry Jarvis will play a variety of Christmas favourites, both modern songs and traditional carols. The audience are of course encouraged to join in the singing! Book tickets here.
Events take place on 4th, 5th, 11th, 12th, 18th, 19th, 24th December (doors open 5pm for 6pm start)
2. Visit Castleton's famous Christmas trees
If you're visiting the Peak District during the festive season, don't miss Castleton what ever you do. This pretty Derbyshire village, characterised by its limestone cottages and the dramatic scenic entrance to the village on the north side – known as Winnats Pass (the 'Shivering Mountain' or Mam Tor can be seen to the left , famous for it crumbling road which closed due to safety in 1982). And there is of course the large, brightly (always coloured) lit Christmas trees, which line the main street of Castleton every year and have become synominous with the village – it wouldnt be Christmas without them basically.
3. Candlelit Christmas tours at Haddon Hall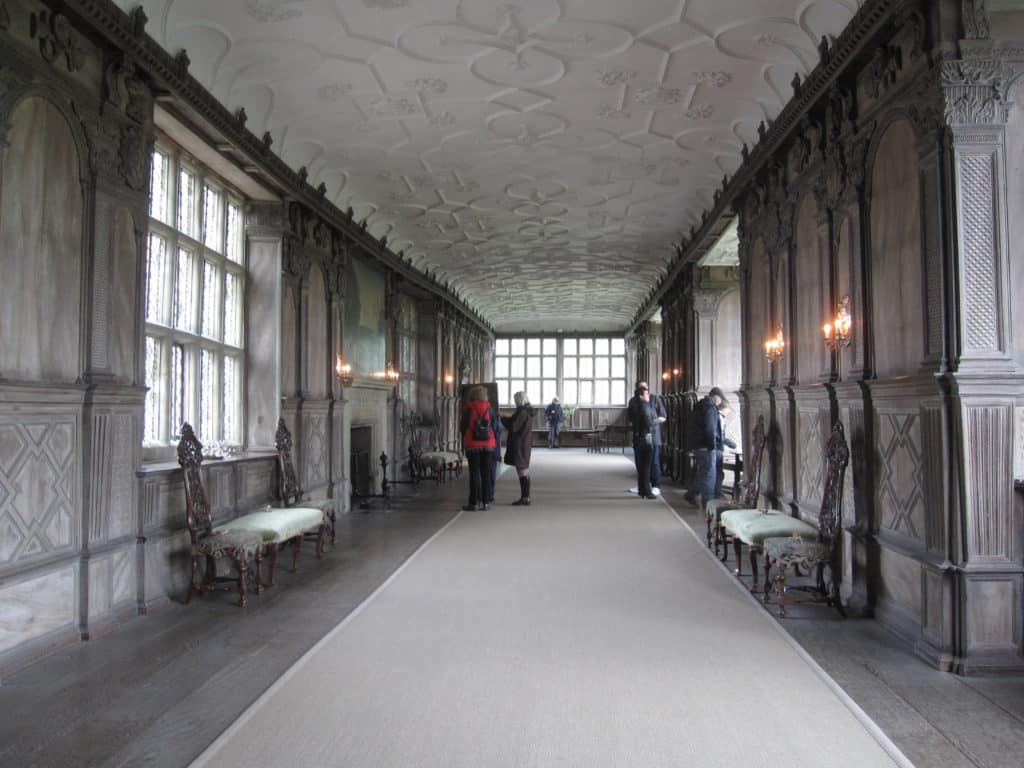 This Tudor and Medieval manor house is one of the finest stately homes in the Peak District and at Christmas the house looks truly stunning with tasteful decorations to compliment its interior. An absolute must visit if you get the chance. The Christmas Candlelit Tours offer a unique way to explore the house. Enjoy Enjoy a warming glass of mulled wine and a fragrant mince pie before the roaring fire in the Banqueting Hall. Your guide will take you to explore the rooms in all their festive beauty, softly lit by flickering candlelight.  Enjoy the seasonal decorations as the lights on the Christmas trees twinkle and are reflected in the latticework of the windows. Candlelit Tours take place on 9th Dec, 10th Dec, 11th Dec, 16th Dec, 17th Dec, 18th Dec, book here. There's also Candlelit Tours + Dinner which sounds fabulous.
4. Meet father Christmas at his Secret Sorting Office
Father Christmas is back this year at a new secret location in Whaley Bridge!
Experience a unique meeting, where you will be transported to another world. Surrounded by trinkets, curiosities and feelings of nostalgia, Father Christmas will tell tales of kindness at Christmas, and he may have also found someone who has helped guide him on his way back.
"The Secret Sorting Office focuses on the subtle details, making sure each experience is personal, magical and very memorable. Think you know all there is to know about Father Christmas? Let us tell you, things aren't always what they seem."
"This is one not to be missed with hidden wonders for adults and children alike."
Book here.
5. Buxton Opera House Christmas pantomime is back
Regarded as one of Frank Matchams finest creations, this is one of England's most beautiful theatres. The annual Christmas 'panto' is an always absolute must here! It's been two years since we last saw some panto fun here due to the pandemic and this year promises to be bigger and better than ever before with Aladdin, starring their regular panto favourire James Holmes, we can't wait…
6. Ride the Peak Rail with Santa!
Santa wishes you a Merry Christmas and hopes that you will join him at Rowsley South Station, before boarding his magical steam train! Santa trains this year will run on Saturday 4th, 11th and 18th December, Sunday 5th, 12th and 19th December and Wednesday 22nd, Thursday 23rd and Friday 24th December 2021.
Santa and his elves bearing age suited gifts will visit every boy and girl on the train. Mince Pie and Hot Chocolate for Mums, Dads, Grandmas and Grandpas (special dietary catered for please advise at the time of booking). Sit back and relax and enjoy professional entertainers during your journey. Beautifully decorated coaches piped with festive music.
To book and for more information, go to peakrail.co.uk/steam-train-events-derbyshire/heritage-railway-days-out-peak-district/peak-rail-santa-steam-specials
7. Chatsworth House Christmas decorations
Every year Christmas in the Peak District is not complete without a visit to Chatsworth House, which transforms itself into a magical wonderland with the most fantastic decorations – and each year the theme is different, often taken from classic children's stories. Each room is traditionally decorated, which, usually depicting the story through each room as you wander round so visitors and particularly children, can really immerse themselves in the experience. This years theme is 20 years of Christmas magic, which celebrates 20 magical years of Christmas at Chatsworth; displays are inspired by the past two decades of spellbinding decorations throughout the house. Book here.
8. Christmas Extravaganza at Thornbridge Hall 
A fun filled family weekend at Thornbridge Hall & Gardens. Arts & Crafts, Food & Drink, Music, Festive Films, The Thornbridge Christmas Hunt & more surprises on the day!
And a very special visitor will be joining you… Book tickets here.
9. Take a distillery tour at Forest Gin
Forest Gin is an award winning spirit distilled next to Macclesfield Forest with key ingredients from the Peak District such as forest spring water, moss and fern, wild flowers and bark. More to the point it's really nice and tastes distinctive. You can now take a tour of their unique distillery at the former Cat & Fiddle pub! There are various dates available during December and your one and half hour visit includes two drinks and a gin talk. Learn how the team create their award winning gin and the process they use to create this lovely tipple. Book here.
10. Christmas fun at Matlock Farm Park
The Farm Park will be decorated festively, there's a Christmas Treasure Hunt to join in with and one of Santa's special elves will be wandering the park, chatting with families and giving out mini Christmas treats. Of course, there's all the animal fun of the farm park too. Santa and Mrs Claus will be there for Santa's Grotto. Christmas pony rides will also be running for children to have a short introductory ride, with ponies dressed in festive attire. Tokens available to purchase on the day only (£3.50 a go, from 2.5 years upwards).
General day entry tickets are available to buy online or on the door on the day of your visit.Santa's Grotto tickets can be book separately on their website.
This event will take place on 27th & 28th November, 4th, 5th, 11th, 12th, 18th, 19th and 20th – 23rd December 2021. Find out more and book here.
11. Breakfast with Santa at Ilam Park
Make a magical memory this festive season with our Breakfast with Father Christmas event.
Enjoy a traditional English breakfast in the tea-room with your family and meet Father Christmas, who will have gifts for the children. After breakfast enjoy a story read by Father Christmas. Be sure to bring your camera to take lots of photos and share them on @peakdistrictnt (Peak District National Trust) social media channels! This is a popular event but there is still availability for 16th December. Tickets cost £11 for adults, £15 for child and under 2s ££5.
Book here.
12. Go Christmas shopping 
The Peak District has a vast range of amazing independent shops across its towns and villages and you can get your hands on some original gifts and produce unique to the Peak District itself (Bakewell Pudding, Wild Olive bath and body products and a vast array of local food and drink produce).  Hot spots for great indie shopping are Bakewell, Leek, Buxton (Cavendish Arcade in particular) and Ashbourne where you can find homewares, antique and vintage, locally produced cosmetics, hand made jewellery, paintings and tasty local food and drink produce. Obviously you can't miss the one and only famous Bakewell Pudding!
13. Christmas Adventure Quest at Bolsover Castle
Explore Bolsover Castle with their festive family-friendly adventure quest! Follow the trail, find the clues and discover the hall's amazing stories and secrets. Bolsover is famous for being a Stuart party palace, so find out how the Stuarts spent Christmas. Discover the carols they would have sung and have a go at writing your very own Christmas carol!
Weekends from 27th November 2021 – 23rd December 2021, Daily from 26th December 2021 – 2nd Jan 2022.
14. Take a refreshing walk on Boxing Day over Chrome or Parkhouse Hill
Having eaten as much Christmas food as physically possible, nothing beats a walk in the countryside on Boxing Day to perk you up again. Chrome and Parkhouse hills are a lovely scenic spot to take in the vistas of the Pack District..and as we're lucky enough to have beautiful walks right on our doorstep, make the most of it to walk off that Christmas pudd.
Did You Enjoy This?
You might like our regular newsletter. We put all the best events, cultural highlights and offers from Buxton and the Peak District in your inbox every fortnight.
This information will only be used to send you this newsletter. It is stored in Mailchimp.