It's been a hell of a year for everyone and so seeing lots of new/reimagined businesses pop up around the town breathes new life into the high street, which seemed impossible a few months ago. We've picked out 12 brand new places to check out in Buxton in 2021 we love the look of – we'd love to hear what you think:
1. Pig and Pepper Bakery
Having first opened in 2017, this independent bakery has built up a loyal following from those who regularly beat a path here to seek out their freshly made bread and homemade pastries and cakes. Their bigger brand new premises which opened recently on High Street looks fantastic. Of course this is only half of the story, Pig and Pepper are a bread school too, offering master classes in the art of creating that perfect loaf where you can learn about the science of bread making from kneading, shaping and proofing to baking your own individual loaves using a domestic oven. The bakery itself also has a lovely selection of deli foods such as pickles, cheeses and crackers and they also serve fresh coffee.
facebook.com/pigandpepperBuxton
2. Kinders Garden Little Shop of Flowers
Perfectly positioned at the entrance to the Conservatory at the Pavilion Gardens, this brand new fresh flower and plant shop is well worth a visit. The business is already well established in Macclesfield so owners Heidi and Dave decided to branch out and expand their business to Buxton. The selection of fresh flowers features lots of well known favourites and you can select flowers for a bouquet too. Not only are the flowers extremely fresh, the price is right too; a large bunch of pink lilies was £8.
3. Hargreaves Café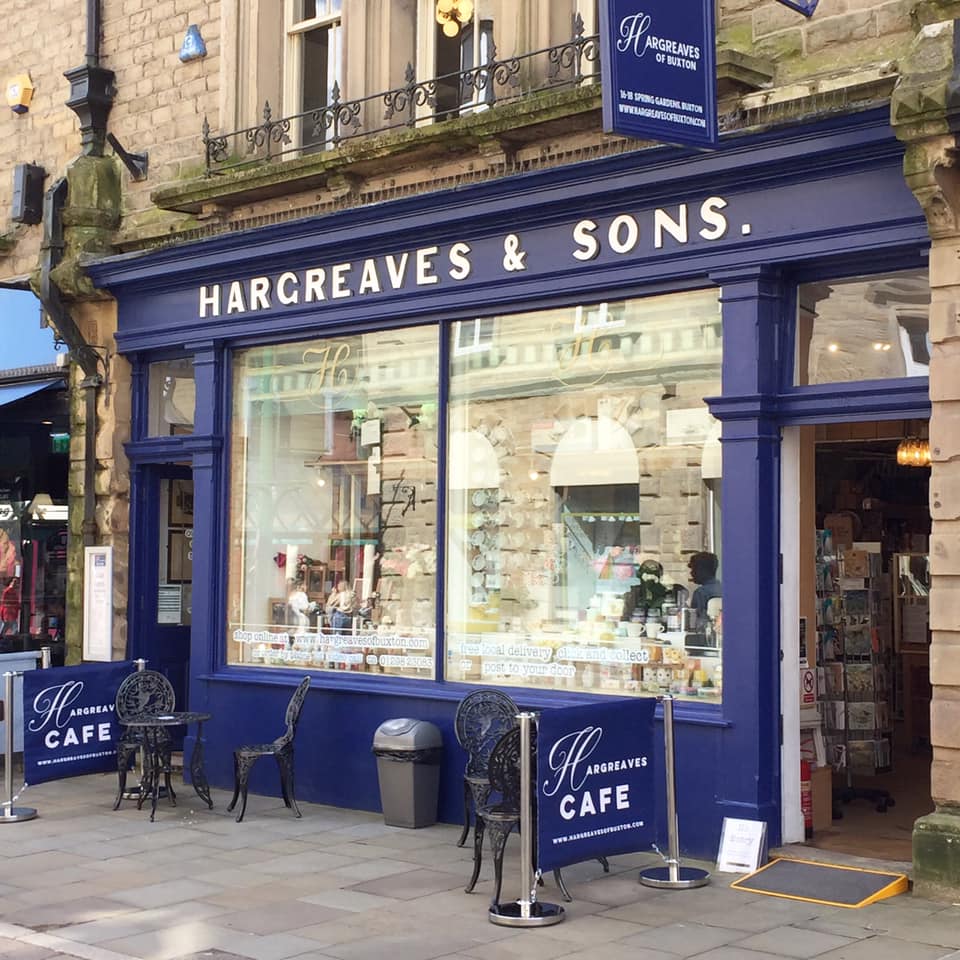 Being closed for much of the last year gave the team at Hargreaves a chance to give the café on the first floor a makeover. Previously known as the 'Edwardian Tearooms', the new Hargreaves Café has a brand new menu and new decor, whilst still retaining the character of its period setting. Having rebranded the business itself and modernising the shop just prior to the pandemic, the café makeover has really notched things up a level at this 150 year old family run business. Buxton's answer to Betty's Tea Room?
4. Brick Corner
After three years, Coda Vinyl Café decided to move on to pastures new and there's now a lego themed café about to open in its place. This could be a true paradise for any Lego fans, but the owners promise much more – Brick Corner will be an activity space 'offering a range of educational activities and fun activities in coding, robotics and creative building (primarily lego)' – which sound pretty rad! Check out their Facebook page – there's already a workshop planned for June which looks great fun.
5. 'New' Costa Coffee
Costa Coffee has moved! Not too far thankfully, just further along Spring Gardens, so you'll still be able to grab one of your favourite coffees. The new store is just as comfortable and the same friendly team are on hand.
6. Highstakes
Buxton now has a gourmet burger and steak bar, Highstakes. The owners have gone all out with not only the menu but the decor – it's what you'd expect a high end burger joint to look like and you'd be forgiven for thinking you were somewhere in the Northern Quarter in Manchester. You can book ahead or walk-in and delivery is coming soon.
7. Forest Gin Garden and The Little Shop
Acclaimed artisan spirit producers from Macclesfield, Forest Gin, have just recently opened a gorgeous little gin bar and shop in the Pavilion Gardens. Famous for their award winning gin, the bar is a lovely spot along the promenade and the staff are super friendly too. If you want more (you will once you've tried FG) to take home, The Little Shop (which shares the space with Gallery in the Gardens) has a really nice selection of quality items, including of course their various gins and whisky. A perfect spot on a sunny afternoon with a G&T or for a quick pre-theatre tipple.
theforestdistillery.com/the-little-shop-forest-gin-garden
8. Dub Kitchen and Bar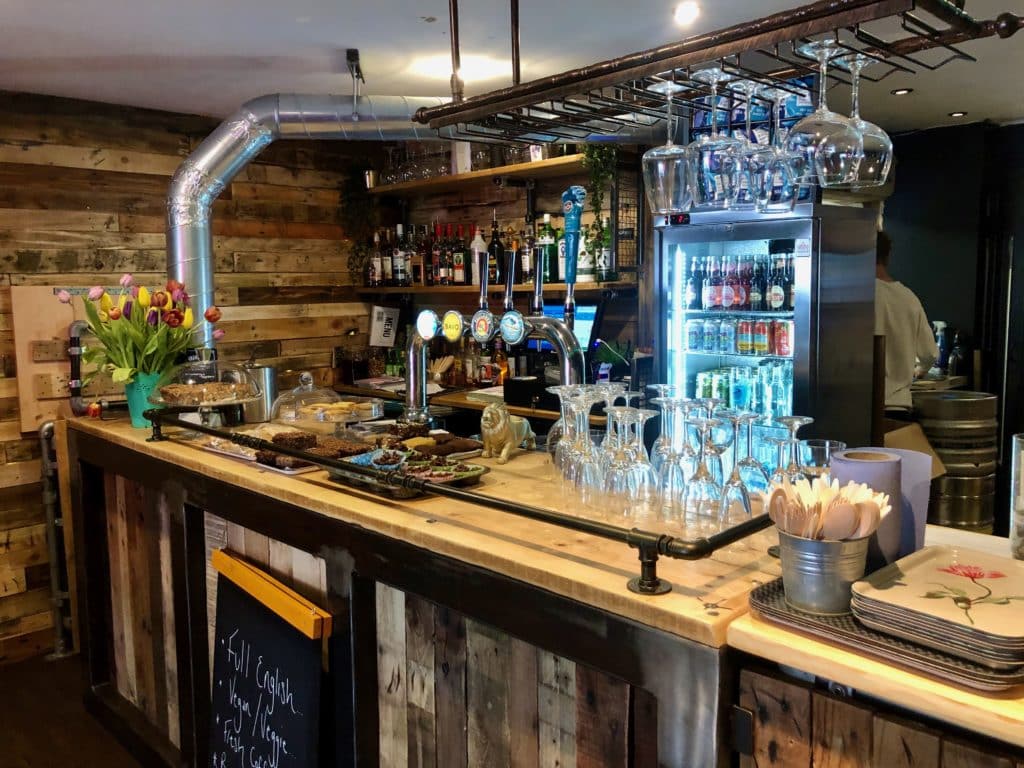 Dubbin' Good Food has been a favourite food spot in Higher Buxton for a few years now serving up ridiculously tasty food with a clean eating approach. DGF has gone all grown up and moved to new, bigger premises with a (slightly) new name on High Street. The big difference now is it's also a bar. Don't worry, you'll still be able to get your hands on 'The Full Shebang' breakfast, gourmet burgers and their famous salad boxes and sandwiches, but they're now fully licensed (with a great bar) and you'll find an ever changing menu of funky cocktails. We really LOVE the Instagram wall – nuff said, you'll have to go and take a look for yourself.
9. BuxTan
A first for Buxton – the town now has its very own dedicated tanning shop. With several beds/tanning booths, it looks lovely inside and when we made an enquiry, the staff were really helpful. You can't miss the gorgeous window too. Another great addition to Higher Buxton and it's many independent businesses in this part of town.
10. Sacro Lounge
Not technically new having opened in early 2020 but the business has been hardly open during the last twelve months. In the former Burtons unit on Spring Gardens at the entrance to the Shopping Centre, Sacro is perfectly placed to rest tired feet after shopping. This place is also geared towards being very family and child friendly with lots of space on the ground and first floor. Ordering food is seamless – you take a seat, peruse the menu and order using your phone, and everything magically arrives. The menu is big and there's lot of gluten free/vegan options which is great to see. Standard pub fare with a slightly Mediterranean angle.
11. Buxton Crescent Visitor Experience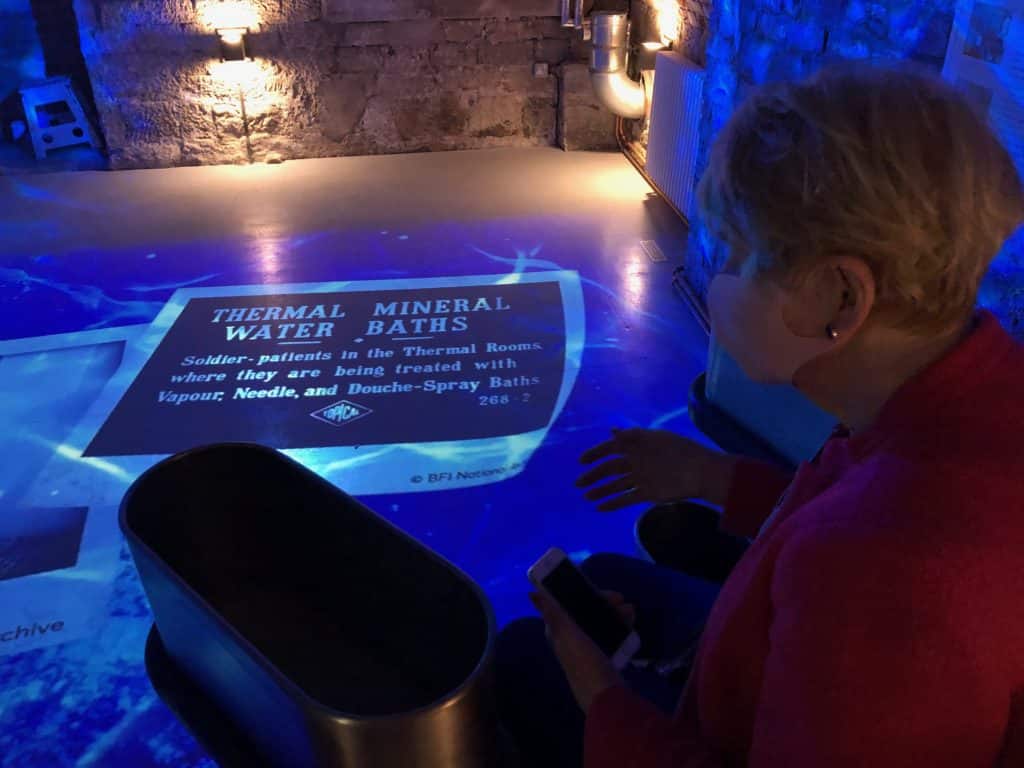 The Buxton Crescent Heritage Experience was open briefly in 2020 before closing its doors due to lockdown and tier restrictions. The nine rooms to explore inside the iconic Grade 1 listed Crescent give visitors a real insight into the background of this historic building as well as telling the stories of the many people who came to seek cures from our famous water for their ills. We don't want to give too much away but as you wander through each room with your tour guide, visitors are cleverly enticed with interactive displays and informative information panels. The highlight has to be the VR (virtual reality) headsets where you're taken on a journey to Buxton in 1792 in a hot air balloon. There's plenty of hidden nuggets so you'll almost certainly leave having learnt something new.
facebook.com/BuxtonCrescentHeritageExperiences
12. Seasons Buxton
Seasons is a lovely new bar on The Quadrant – which was planned for opening in early 2020, so one year on, they're finally here – and it's great! A nice selection of craft beer and wine with an intimate feel inside and the staff give you a really warm welcome. A great addition to Buxton's 'West End' and the perfect spot for pre or post theatre drinks.
Did You Enjoy This?
You might like our regular newsletter. We put all the best events, cultural highlights and offers from Buxton and the Peak District in your inbox every fortnight.
This information will only be used to send you this newsletter. It is stored in Mailchimp.